Post content has been hidden
To unblock this content, please click here
Frequent user
September 2022 Ontario
Seating chart
Do you put the names of people sitting at your head table on your seating chart? And do you put your vendors on the seating chart too when they have an assigned vendor table?
Latest activity by Danielle, on May 12, 2022 at 00:36
Frequent user

April 2022 Ontario

We put the names of absolutely everyone on the seating chart - Including head table and vendors and even ourselves but we also made a fairly elaborate seating chart and that helped to fill it out! So I think it really depends. I also opted to put our vendors at a fully decorated table so I felt like we needed to put them on there for that reason as well.

The seating chart is for everyone to know where they are seated which is enough to have at the gift table as they drop off their envelopes or gifts itself. I have never seen both being done separately.

Super

October 2021 Ontario

Hello Jillian,
I put everyone that was apart of the wedding on the seating chart. Along with acrylic name tags place on the tables that the guests would be seating at. Just wanted to be consistent.


Featured

May 2022 Alberta

I will be adding my one vendor that needs a seat to the seating chart but I won't be adding the head table

Frequent user

August 2022 Alberta

I'm not planning to include the wedding party but I am including the vendors so they're not left wondering!

Super

September 2022 Alberta

I added my vendors to the seating chart but I didn't add our wedding party at the head table, I think it's personal preference if you want to add them and weather or not they will already know where they will be sitting

Expert

October 2022 Alberta

If you WANT to note the head table on your seating chart, then yes you can put that on there, but if its known that your party will sit there, not necessary (this is defineitly a personal preference). I'd say the same thing with the vendor team if they are aware of a dedicated table for them.

Super

December 2020 Ontario

We had escort cards for everyone and acrylic name hexagons at every place setting. I would include them all. Our vendors still had a table number...

Featured

October 2023 Ontario

We are not having a seating chart for the head table- our wedding party is our kids so we are going with ladies on one side gentlemen on the other. The vendors we have hired have requested we not include them at a guest table.
Related articles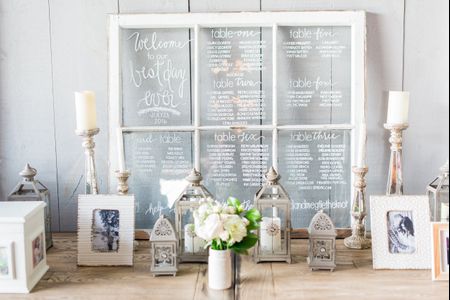 Groups
WeddingWire Article Topics