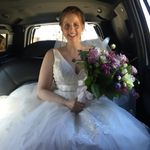 Devoted
April 2018 Ontario
Scheduling dances
So my reception venue doesn't really have space for a dance floor until after they remove some of the tables set up for dinner. I know usually after the introductions of the bridal party and bride and groom there is the first dance but I think we have to do ours after dinner. My question is, is it too much to do the first dance, father daughter and then mother son dances back to back? That's like 15 minutes of look at us dancing...
Latest activity by Serena, on March 11, 2018 at 23:16
Newbie

December 2019 Alberta

I'm not really sure I know I'm going to do our first dance before dinner then the next two dances after dinner.

Curious

November 2018 Ontario

Traditionally all the dances have always been after dinner and there was never problems. I don't understand why it was changed...it should have been left alone...if ain't broke don't fix it!

WeddingWire Admin

October 2016 North Carolina

Doing all the dances in a row right after dinner is totally fine! I would also recommend shortening the songs a little or having the DJ fade them out so you don't do 3 full songs back to back! That's a lot of slow-dancing in the center of attention!

Master

August 2019 Ontario

View quoted message

Two tables is fine then! The wedding I went to removed approximately half the tables, that's where my concern came from!

You'll be fine doing them together and I think it can be fairly common. There's some options you can do if you're worried about it though that people have mentioned:

1. Shorten the songs a bit, I think keeping songs up to 2 minutes is more than enough.

2. You can combine the Mother/Son and Father/Daughter dance if you like, or half of the song one set dances and the second half the other set dances.

3. You could also do one dance, open the dance floor and then a bit later have the DJ ask the dance floor to be cleared for a dance

Expert

August 2018 Ontario

Maybe I'm weird (or maybe it's a local thing) but I think all the weddings I've been to have the dances after dinner and all consecutively? So obviously I don't think it's weird. People who don't want to watch - it will just give them an opportunity to visit the bar, have a smoke or just get fresh air but I think you'll find a lot of people like watching.

It's also fairly common here to remove some of the tables to make room for a dance floor. Usually a few people will leave not too long after dances/speeches and this makes a bit of room for those who lost their table but want to sit.

Master

September 2017 Ontario

We did all our dances after dinner and speeches as otherwise we would have been waiting forever to eat. If you don't want to take up so much time with dancing you could do the father/daughter and mother/son dances at the same time to a song you all like. Both my husband and I danced with our mums at the same time to the same song and it was pretty fun!


Devoted

April 2018 Ontario

View quoted message

It's our only option for having a dance floor. We will be removing two tables. Chairs will be kept around though by the walls and there will be the other tables so people will move around. The idea is that not everyone will be sitting at the same time through out the dance/late night food hours.

Master

August 2019 Ontario

I'd be more concerned about moving tables. Where are these guests going to sit after you uproot them from their table? I only ask because that happened to me at a wedding once and it was very awkward.

Frequent user

June 2018 New Brunswick

I don't think it should be a big deal to have all the dances separate and one after another. Those are special dances that most guests like to watch anyways and that are priceless for the photographer to be able to capture, and I feel as though they can do so much easier when they aren't all happening together.

I've been to many weddings where all the dances are together. It's does get a little monotonous, but if you're inviting everyone on the dance floor right after, you can pump them up a little bit after a few minutes of watching dances, so I think it's fine.

If you are concerned, you can always do half the song to reduce the time. I hate dancing so I'm doing half songs and we are combine the mother/son and father/daughter dance.

I don't think it's an issue, its mostly for you not so much them so if they get bored then it's only for a couple minutes. We are also doing our dances after dinner just as preference for us. My fiance and I chose against having the wedding party dance with us so our first dance will only be a short version, then the father daughter but no mother son because he doesn't want to do that. But for you I don't think it's an issue. Personally I love watching the dances so I'd be happy. You could also do first dance/wedding party dance then invite guests to join then after a couple dances ask them to step away for the father daughter and mother son dances. Splitting it up would be cool.

Devoted

August 2018 Ontario

It loses something doing one after another. As a guest, I'd be ancy and wouldn't enjoy waiting around watching this.
Groups
WeddingWire Article Topics