WeddingWire Admin
October 2016 North Carolina
Meltdown Moments?
Have you had any meltdown moments yet in planning? (Publicly or privately??

)
What caused your meltdown moment?
Latest activity by Erin, on March 9, 2018 at 15:14
Master

September 2017 Ontario

I had some private meltdowns about vendors and time and getting things done and the fact that my two best friends, who were my bridesmaids, live so far and I couldn't see them.


WeddingWire Admin

October 2016 North Carolina

View quoted message

My (now) husband witnessed a lot of private meltdowns!!

WeddingWire Admin

October 2016 North Carolina

View quoted message

I feel like that final sentence should be framed!! So true!

Newbie

November 2018 Ontario

I've had a few little ones, it's just seemed like everytime we figured something out someone threw a wrench in our plans, we don't have a lot of money and people kept trying to tell us what we had to have but weren't offering to help pay for it so we decided that this is supppse to be the happiest day of our lives not stressful and money wasting so we are eloping

Devoted

August 2018 Alberta

I had a mini meltdown about my venue. I didn't like the person I was dealing with - he was short and not being helpful with his replies. I got so irritated that I actually hunted down every single other venue in the area to find something else. But everything was booked. Now I have a new person handling my questions and he's lovely.

I know I was being a bit needy and we are having a very small wedding for their standards but it's a wedding non the less!!! I should get the same treatment as someone who's renting the entire venue! No?

Devoted

November 2018 Ontario

View quoted message

I have the same feeling sometime's of no control!! My in-laws have a very specific vision for their son's wedding too and are also a little bit making me feel like I don't have control!

I just keep saying that the wedding is just one day. We go through it for the lifetime afterwards with the love of our life. If it's not exactly what we want, that's okay because our FH should be exactly what we want

Devoted

November 2018 Ontario

I melted down recently (to the point of scream crying to my finace. Not cute, because my in-laws offered to pay for more expensive wine at the reception. Seems silly to scream-cry over, but it would just cause a bigger headache for me with the hall, having to coordinate other things. I know this seems like a nice thing, but they have fought me or played devils advocate with EVERYTHING I have talked to them about, because they think I'm asking for help or advice when I'm really just alerting them to what's happening.

Also their way of "helping" usually involves adding something extra to the ceremony/reception, they will create more logistic issues for me! Anyway, it's nice to vent on here and read other people's struggles

Curious

July 2019 Ontario

One private moping session. I lost my mom nearly 10 years ago and didn't realize how hard it would hit me to go through the planning without her. Lol I imagine we would have disagreed on a lot in the process but I know she would have been excited about every detail. Tried on a wedding dress and had a little pity party in my car after. Reminded myself I was fortunate to be involved with my sister's wedding and do have many great memories with her where I can imagine her responses

Devoted

October 2018 Ontario

Today! My sister in law is flaking out on the bridesmaid dress shopping day. I feel offended as I feel this is all a part of the process and we are close. Everyone else says I'm being over dramatic. I fear I'm becoming a bridezilla

View quoted message

All of these are acceptable meltdowns! I am planning my wedding from a distance which has been a pain, but I totally get the budget concerns and making sure certain people get what they want, while keeping it what I want!

I've only had one tantrum which was due to a "grooms-lady" not answering to any of our queries and taking forever to get back to us. She also is the only person to not have helped (and will not be helping) in any of the wedding prep. I'm a little perturbed that she just gets to show up and enjoy the perks of being in the bridal party, while everyone else in our group has done something to help us out.

Regardless, this is just a minor thing, but something that seemed to bother me so much. Luckily, I have a wonderful MOH who helped calm me down and tell me, she'll make sure she does some jobs on the day of to make up for it!

I had a meltdown when my friend announced she was getting married two months after me but there were so many factors that contributed. Like the fact that before she got engaged they talked about a ceremony at city hall and then a reception at a local hall or something afterwards, nothing big, but now she is planning a big wedding very similar to mine just a different location. And she has done no research prior to making any decisions and she has gone dress shopping even though she just got engaged three weeks ago and her wedding is July 2019. I spent almost a year now planning everything and she is swooping in and stealing all my thunder by rushing her planning and everything. My fiancé thinks I am over reacting but our mutual friends have already started to be super excited about her wedding and not even asking about mine anymore

Super

September 2018 Alberta

View quoted message

10000% AGREED!!

Super

September 2018 Alberta

View quoted message

YES! So I'm not wearing a white gown due to personal preferance and a multicultural wedding, so to find a veil in a red (burgundy) will be tough. Which I told her and she said "well if you went with a white gown like I said then you could wear a veil.." UGH!!! She doesn't approve of my wedding dress color because it's "not traditional" and I should have 2 dresses.....I said no that's more money and she's like if you can find a place to rent I'll cover that fee and I said no again....she is so unreasonable!!!

Expert

August 2018 Ontario

View quoted message

Comparisons are the worst!

when i flatly said no to tiara & veil.... my mom said "but then you won't look like a bride if you have nothing to make you stand out- your sister had those, stood out and looked beautiful!"

(the tirade that came out of me afterwards is not worth repeating here!)

Devoted

June 2019 British Columbia

This week sorta.. Meltdown is a big word maybe? I was yelling about it tho to FH

Long story short, our venue wasn't booked yet while we thought it was (we did everything on our side, but they hadn't seen our authorization form even though we actually wrote in the email that their was an attachment with it) and then they didn't contact us about it, so I had to find it out myself after a month and a half. It's still not fixed now, because she said she was gonna do it first thing in the morning and then she emailed me about something at 6 and then went on holiday... FH is gonna take over the communication with them cause I'm too pissed off :') and he's super easy going tempered so that's gonna work way better

hopefully it'll all be fixed next week and at least they still got our names as tentative so it's not like our date is gone now anyways

Expert

August 2018 Ontario

View quoted message

Im just lucky my FH can tolerate my temper when i rant about this to him...

Super

September 2018 Alberta

View quoted message

Yup I feel your pain sister :'( this would be a lot easier without the unwanted opinions.

Frequent user

October 2018 Ontario

I definitely have been having some meltdowns, all privately .... so far ! So nice to know I'm not alone on this lol.

Super

August 2018 Alberta

I've had a couple in front of my MOH and fiancé. The cause is other people's opinions and judgements becoming too much for me for the most part. My mom is super hard to please and is often rude to me if it's not done her way. My FMIL is great and helps so much but sometimes it's too much I feel like I have no control. Also another bridesmaid who does not participate or reply back to messages. Wedding planning can be so overwhelming at times! I agree to what someone mentioned above about how wedding planning would be so easy if no one else had an opinion! Or kept some of their comments to themselves.

Expert

August 2018 Ontario

View quoted message

My meltdowns have been all caused by my mum too...constantly asking to see things i've ordered, giving unwanted advice ETC.......ughhhhhhhhh

Expert

August 2018 Ontario

- tiara & veil pressure

- expensive/big statement jewelery (i'd rather get things i can wear again!)

- pressure from my mom to help- i wont allow it in order to maintain control!


I've had a few private meltdowns, just in front of my fiance, who handled the situation like a champ! The cause mostly revolved around the face that we have started planning this wedding in Chatham, ON and this month we are now moving to BC. So that was actually a huge meltdown! I've had mini one because my mother and FMIL drive me crazy lol and my former maid of honour went off on me and pretty much forced me to kick her out of the wedding completely! So I've had my fair share and am hoping for smooth sailing from here on.

Super

September 2018 Alberta

Mainly private but my fiance was there to witness my meltdowns....

The reason? My mother.... her opinions and not listening to reason why I am doing what I'm doing for MY wedding! She buts in and keeps comparing what I'm doing with her wedding 20 yrs ago..... I pretty much stopped talking wedding with her!

I've had a few private meltdowns. Mostly all due to my MOH being a complete maid of horror and making everything about her.

She's very salty towards anything to do with the wedding. And lets me know how she feels whenever she can.

Master

August 2019 Ontario

I've had several private meltdowns (and one that almost came out towards my FMIL). Most of them surround the pressure of pleasing everyone, the cost of everything, and the immense amount of stress involved with planning a wedding lol.

Expert

August 2018 Ontario

I've had one mini-meltdown (just a cry and a teeny bit of moping) so I like to think I'm doing well so far.

With our venue we get a coordinator, and not just a day of coordinator, she's with us for the whole ride including design, decor, management etc. About a month ago our coordinator (who I had worked pretty closely with and really liked), sent me a message to say she was no longer with the venue - she had a side business that had gotten very busy. To be fair, she was nice enough to let me know before the venue did and was sincerely apologetic. Of course I was a little upset... but better at 6 months than closer to.

We have a new coordinator now and are scheduled to sit down with her next week before our tasting. She seems completely lovely so far and looking forward to finally meeting with her.

I've had a few private meltdowns...usually because of the pressure other people are putting on me. Wedding planning would be easy if no one else had an opinion!
Related articles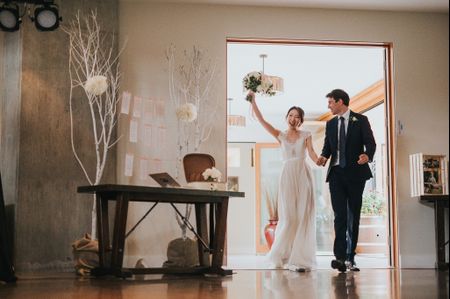 Groups
WeddingWire Article Topics