Post content has been hidden
To unblock this content, please click here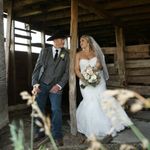 Super
August 2018 Alberta
Liquor Cost
Hey ladies! We're having a farm wedding this summer and I'm having a hard time figuring out the actually budget for our liquor. I know there's liqour calculators out there to tell us how much we'll need but not how much it'll cost us, at least not that I've seen. I'm wondering if anyone could tell me what they used to figure out their alcohol budget? We're making our own wine but I'd like to have some idea how much we could be spending on the rest. We have about 300 guests and are hoping to buy from Costco since we've heard that's one of the best places to purchase from cost wise. Was the budget section accurate in this app for you when calculating the liquor cost? Thanks!
Latest activity by Geoff, on December 19, 2020 at 16:19
I had asked my friend his experience since he did this in October. His wedding was 150 people. This was in Ontario so prices may be different. They also shopped at cost-co and made their own wine.

This is what he told me:

Apparently, the formula for figuring out how much alcohol you should have goes as follows: Look at your guest list and identify the drinkers in the crowd and then budget one drink per hour of the event. We ended up buying 12-24 cases of beer (making sure to buy brands that we wouldn't mind drinking if there were leftovers) and I think 6 bottles of rum and vodka along with 7-6 packs of hard apple cider. We confirmed before we bought anything that we could return any unopened drinks, I think the window to return things was around 4 weeks, so you may want to hold off purchasing these things until closer to your wedding. We were fairly generous with identifying the so-called drinkers. We ended up only needing half of what we bought and were able to return most of the leftovers (there was a box of beer that hadn't been consumed at all, but it had been opened so we couldn't return it). I think the initial bill for the drinks was around $700 (and then we returned about half).MixersWe went to Costco and bought two cases of coke and one case of ginger ale (we would have only needed the one case of coke). We also bought 4 jugs of orange juice and cranberry juice and two jugs of clamato juice. The total was about $150 and again we returned about half of it.

Newbie

August 2018 Alberta

Good thing about buying from Costco is that they will buy back in opened bottled with a receipt. I was also able to purchase a liquor license directly from them when I used them for a corporate event.



Groups
WeddingWire Article Topics