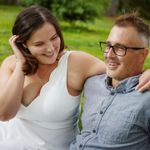 Featured
September 2022 Ontario
Is it rude to invite kids for some guests but not others?
Okay, so I'm not planning to go child free for my wedding because we have two kids ourselves, that being said in order to keep the guest list down I'm considering not including kids for some guests. So like I would want my cousins at my wedding, but not their kids since I've never spent time with their kids (all my cousins live out of town), however I have local friends who have kids who I would be fine with having them bring their kids. I'm just not sure if that's super rude or not? My mom was the one who suggested this but I'm not sure.
Latest activity by Christine, on August 26, 2021 at 18:27
Curious

April 2022 Ontario

We're inviting kids from the immediate family, and the kids of two couples that are from out of town. The rest of our attendees are local/have family in the area to babysit. Their kids, however, would be welcome at the afternoon ceremony. Our friends with kids don't want them around for the dinner and dancing anyways lol.

Frequent user

September 2022 Alberta

We are inviting immediate family members' children (fiance's sister and my sister both have kids) but not extending the invite to the rest of the guest list. I don't really care if it's rude. Weddings aren't even fun for kids anyway and if we didn't have them in our immediate family we wouldn't be inviting kids at all tbh.

Frequent user

August 2021 Ontario

For us we said no kids but made plans with close family (close cousins to our kids ) and had it so they can bring their kids to the ceremony but after they all go back to the hotel room with a babysitter and order pizza for dinner so the reception is still completely kid free ( my kids will have a grand entrance and a few photos and they too will be off with their cousins)

Featured

August 2017 Ontario

It is your decision to have kids from some families over others and then to face the music coming from the family. End of the day its your decision to make and feel good about it. Every wedding in our family being direct family or cousins, uncles, etc. have been family oriented as we always make time to know the kids get to see each other and the family. The group pictures is when we reflect to see how young they were and seeing how big they have grown since then. You may have some backlash from the family side and be prepared to know they may not say anything, though it would be upsetting they couldn't have brought their kids. I understand being closer to the friends kids means more than anything to you both; however, it takes the family aspect of knowing who the kids are and knowing your their aunt and uncle to be to them would be nice.

Featured

October 2021 Ontario

Hello Jenny,
Personally I don't see it as being rude to invite children from some guests and not others. It's your big day and you decide who you would like to invite. If you don't feel the need to invite the cousin's children but your friend's children because they are closer to you and your daughter, you do so. It makes sense since you're not close to your cousin's children.

Some of our family & family friends have about 4-5 children per family. So I did not want children at the wedding especially since I wanted an intimate/small wedding. We did not indicate it on the invitation due to the fact that three children will be coming (6 years old - parents coming out of town and no one to watch the son; 3 years old - second cousin apart of the wedding party; and 2 years old - fiancé's niece and all their family are coming to the wedding). However, being they RSVP'd on this website, it made known that I did not take into consideration their children, so that helped me not make it awkward.
The choice is yours and who you would like to be present at your day!! 🥂

Featured

September 2022 Ontario

View quoted message

I'm definitely okay with the kids coming and don't like the idea of having no kids there, and honestly most of my friends kids who I would want to invite are friends with my oldest daughter (she's three) so then it's almost like they're her guests lol.

Featured

September 2021 Ontario

We're inviting some kids but not others. But all the kids invited are from my side and on her side, she invited no kids. So if anyone asks, we just say we split the guest count in half and we don't question each other's choices. The same goes with dates.

I invite kids the same way I invite dates. If I have a genuine relationship with this person (date or kid) as individual people outside of their partners, then they're invited. But with a restriction on guest counts, I'm not inviting someone I don't know for the sake of somone having a partner at the wedding.

Frequent user

July 2023 Ontario

Do you actually want your friends' kids to be there or would you just be okay with it? I ask becauser I think it would be easier to just say no children aside from your own and maybe if you have nieces and nephews. Then at least it's direct family and doesn't seem so random, because I agree I think some people will be mad. But at the end of the day it's your wedding!

For us, we don't have kids but we are having our cousins (the youngest will be like 13 so it hardly counts) and then our niece and nephew who are little but are in our wedding party. But many of our guests have young kids and we won't be inviting those children.

Most people I know kinda like kid free weddings because they can have a fun night out without worrying about taking care of the kids.

Super

November 2020 British Columbia

I think you should just invite the people you want there. You don't have a relationship with these kids and it's weird that anyone would expect them to be invited.
If anyone complains I would explain it that as a general rule kids aren't invited for guest count reasons, but there are some children you have a close relationship with and you've made exceptions for them. If people don't understand that's on them.


Devoted

December 2022 Yucatán

View quoted message

Could be, I mean like you can tell her to let the others know their kids can't come. why be the bad guy when you aren't the one making that decision on some kids allowed LOL.

Just do what you want, its your big day and you should be happy and not stressed whether you offended some family and friends.

Featured

September 2022 Ontario

View quoted message

That's kind of how I feel too, when I showed my mom the guest list she said I shouldn't invite certain kids in my family since they're prone to acting up but I felt like that would be seen as a snub.

Devoted

December 2022 Yucatán

Hi!

I understand what you mean by wanting to have some kids BUT the issue is that if you send an invite out that said no kids allowed or told them they weren't able to bring their kids and then they show up and see other kids there, they may take it personally. I don't have kids myself so I am not exactly 100% sure how they would react, but I look at it in the way if I were to get invited to a wedding and they told me to not bring my SO, and when I arrive there are others who brought their SO, I know I would be upset and mad about it and honestly probably leave and then to find out later that since they didn't know my SO well enough the couple didn't want him there.

It would be different if the kids you do want at your wedding are in your wedding party and that's all who would be coming because I have seen weddings like that. But to pick and choose which family can bring their kids may come off as a bit rude and they may get the feeling you do not like their family.

Some don't mind not bringing their kids because its an excuse to get out without them, but others may want to bring their kids.

Ultimately it is your wedding, so you gotta do what makes you happy. But in the end it may backfire and ruin some relationships.
Groups
WeddingWire Article Topics