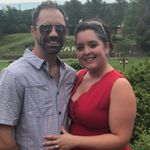 Newbie
September 2020 Quebec
Invitations
Hello ladies ! I was wondering for the invites are you guys going the old fashion paper invites or are you going with internet invites ( which website?)
Latest activity by Jeff, on November 17, 2019 at 13:20
Newbie

November 2023 Ontario

Digital 100% - and I say that as a once-upon-a-time print designer. I like Weddingwire's vendor finder, but I might switch to the Knot for the custom website and RSVP management. My 91 year old grandmother is a fully capable iPad user and if she can manage it, I'm sure the rest of my family can too!




Frequent user

August 2021 Ontario

Paper invites for sure! But we did opt to do online rsvp to save paper and some costs, I'm curious as to how it will turn out. I fully expect some of our older guests will just let us know in person if they are coming.

Featured

June 2022 Ontario

I want the paper invites and RSVP'd though I know some people are way more into the internet invites. I always get excited for mail, I want that little bit of excitment for my guests.

Were doing both. internet for most of the younger people under 40 and then for the older aunts and uncles paper ones.

Frequent user

July 2020 Ontario

We're doing paper invites, but having RSVP online. Ordering our invites through vistaprint.


Top

October 2019 Manitoba

A bit of both! We sent out paper invitations, but the RSVP was to be made via call, text, or email. We also had our wedding website for any FAQ's and more information.

We are doing paper invites. It's more of a traditional thing for me. Also I feel that I/we engage in enough screen time as it is. I think it's a nice break from that

We're going with paper. We're inviting enough people who aren't very tech savvy, simple as a website may be. But also I just love the feel of an invite.

Curious

September 2020 Ontario

I'm going to do paper invitations. I think it depends on the crowd mainly. I have a lot of family members who are very old school and are not technology savvy. So to save the headache (although it is more costly) we are going with paper!

Master

October 2019 Ontario

We went with old fashioned paper invites. I waited until Black Friday for Vistaprint and got a wicked deal on them! It's nice to have something physical to keep after the wedding

Master

October 2020 New Brunswick

We're doing paper invites and digital RSVPs (still debating on website vs email).


I love getting mail that isn't bills, and I know that our parents and his grandparents will want a physical invitation to hold on to.
I'm not opposed to hand delivering a few invites to save postage or time of they're last minute additions, but I know most will be mailed. (Unless there is a postal strike in which case I'll hand deliver as many as I can!!)

Super

September 2020 Ontario

We're going with old-fashioned paper invites. It feels more special to me. But I'll do internet invites for any other events we have (ie. rehearsal dinner).

Internet invitations are definitely more popular now - and cost effective.




For me, I wanted real invitations both for the sake of having one and because a lot of guests would never understand how the online one works.

Master

October 2019 Ontario

We went with the old-fashioned paper invites. I felt/feel that paper adds a special touch, especially since people don't get mail as much as they used to.

Featured

August 2017 Ontario

The invites are all based on couples wanting to save by going paperless allowing guests to go to the website for details and information that may be useful to know.

For couples ourselves at the time, I chose to go with paper due to having the colour and design to provide the baker matching the Thank you card being the same as the invites with the pattern being a different colour. We also chose the option of paper to keep part of scrapbooking since its something I do at times for projects as keepsake memories.

Choose what option is the best as websites offer their pricing and actual invites to order per card. This way you get the better deal saving on postage consideration.

Groups
WeddingWire Article Topics