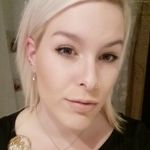 Frequent user
November 2018 Alberta
In Limbo
Everything is booked, all my deposits are down other than on a dress and the boys tux's. I'm bored lol I have nothing to plan or create, I'm just saving money to finish paying everyone. My mother in law keeps asking what she can do to help and I'm like... nothing.... This is weird.
Latest activity by Sara, on April 23, 2018 at 09:59
Devoted

October 2018 Ontario

I feel you!

All I have left to do is some DYI projects that I need warmer weather for and we haven't been that lucky in Ontario just yet. But other than than everything is done, the guys need their tuxes but that's not really my responsibility anyway - I'll just start pushing if I see nothing is happening.

But I think it's best to enjoy the calm now as I've heard the closer you are to the day the more little things come up and then it is more stressful.

I would enjoy the quiet!

Just don't start thinking and re-thinking about decisions you've made because you will start to overthink and question them. Not good!

The day is huge! Having everything planned and are "bored" sounds like a great sign to me! Take this time to enjoy your engagement with your S/O!

Expert

August 2018 Ontario

I had periods of limbo b/c it was "too early" for certain things...and no lie- i LOVED those quiet moments!

Master

September 2017 Ontario

I would say that you should enjoy this feeling for a bit because the closer you get to the date the more things will feel like they are piling or falling on top of you. We all have those pockets where it feels too good to be true so don't worry.


Super

August 2018 Alberta

View quoted message

Ah I see! I'm working on that as well. I purchased my dress but I am holding off on doing any alterations until June so I can keep losing weight.

I had that as well for a long time. My mom and bridesmaid kept asking if there was anything for them to do, but I had already purchased everything I needed to. Enjoy it though, because as the time gets closer there will be little things that need to get done or small things that need to be created. Just let them know you'll call on them when it's time!

Have you done your hair test and make-up test?


Did you consider the registry, wedding favours, bridesmaid and groomsmen gifts, ring bearer (box or pillow), flip flops for ladies tired dancing feet, basket for the bathroom (bobby pins, spray deodorant, sewing kit...etc)....the list goes on and on


Devoted

April 2018 Ontario

I remember this stage clearly. I hated that part. It's also a dangerous point where you may be tempted to add things just to have something to do.
Then all of a sudden it's go time. Payments to make, deadlines to meet. Before you know it, your wedding is this coming weekend!!!! ;-)

Super

August 2018 Alberta

I am just coming out of that stage. But I was in it for about 4 or 5 months. Just enjoy your free time. Cause then it's all day-of timelines and song lists and photographer lists and putting together centrepieces... you get the idea. ;p

Expert

September 2018 Ontario

I'm on the same boat! I feel like there's something I'm forgetting but when i check the list none. I'm not bored but i am scared that I'm actually forgetting something lol

Frequent user

November 2018 Alberta

No, I wasn't really planning to until July, mainly because I'm working on losing weight.

Super

August 2018 Alberta

Lol that definitely happens! And then time will fly by and you'll find yourself needing to do a bunch of little things! Have you gone dress shopping yet?
Groups
WeddingWire Article Topics