Post content has been hidden
To unblock this content, please click here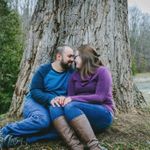 Curious
November 2018 Ontario
Hashtag
So I can't believe I'm asking this, but apparently by FH likes the idea...I need some help coming up with a hashtag for our November wedding. Names, Sarah Lane and Len(ard) Pipitone. Bonus points if there is a Toronto maple leaf reference!
Latest activity by Joey, on October 26, 2018 at 17:54
WeddingWire Admin

May 2015 Maryland

Which one did you pick, Sarah? How are you spreading it around to your guests?

I'm learning these hashtags as well but here are some?

#BecomingThePipitones
#MeetThePipitones
#YouHadMeAtPipitone
#GameTimePipitone



Super

August 2334 Nova Scotia

I am generally so-so at hashtags, but hockey fans got to stick together! Lol! (Canucks fan myself...but all my friends are TML or MC fans. Makes hockey night interesting!). Here it goes:

LenLaneLove (like Live laugh Love)

StrolldownPipitoneLane (like stroll down memory lane)

PipitonesNightinCanada (or you could use Knight instead of night to refer to the big Canadiens vs. Toronto mural in the Toronto subway - named Hockey Knight in Canada)

If it is a destination wedding, you might be able to make a play on the word South and Bay (the corners of the streets the TML home arena currently is on)

Hope, even if they aren't the greatest, you get some amusement out of my attempts...lol.

VIP

November 2019 British Columbia

I'm awful at coming up with these but I'm just laughing cause my future last name is your current last name!
Groups
WeddingWire Article Topics