Post content has been hidden
To unblock this content, please click here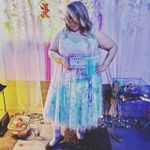 Expert
August 2021 British Columbia
Has anyone done a grey vest with black pants
Sorry in advance for the rambling post I'm exhausted and trying to multitask at life lol 😆 Has anyone successfully done a mismatch outfit for the groomsmen?Due to covid we scrapped the idea of everyone in the wedding party matching 100% and basically told the adult males in the wedding party to wear whatever suit they had that still fits them.My brother is standing on my side as my man of honour and plans on wearing a dark grey suit,the groom is wearing a darker grey suit as well but I have no idea how well they will match but that's okay because they are on opposite sides.My issue is the best man and our sons the groomsmen blending as the best man has a black suit.We already bought our sons the matching vests that go with my fiancé's suit and vest so I'm curious if I should have them wear black pants so that his best man doesn't stick out so much?Will it work if I have all of the guys besides the groom wear the same shade of white shirts?Matching ties for the adults and bow ties for the boys that match the grooms pink shirt?Or do I go bridezilla and demand all men besides the groom wear the bow ties 😂 I already bought 5 of the darn things but my brother is saying no way!!Ugh I'm so overwhelmed with all of the little details on top of the restrictions stress.I should also clarify that my oldest son will be standing on my side as he is walking me down the aisle and the other two are standing on the grooms side.
Latest activity by Sarah, on July 12, 2021 at 18:12
Expert

August 2021 British Columbia

The shirts are too big but I think the colours go nicely

Expert

August 2021 British Columbia

These pants are a tad big for him but we have ordered the correct size and they should be here next week.The only thing missing is the pink bow tie,shoes

Expert

August 2021 British Columbia

Although our pink tie is more vibrant this is the look that we ended up picking after matching 6 different colours and styles of pants from grey to navy we settled on the dark black.It might not be everyone's preference but we really like it and can't wait for the big day now that everyone's outfits are sorted out.

Expert

August 2021 British Columbia

Our vest is the one on the left that we have decided to get for everyone as their shirts and pants will be different from the groom but will coordinate nicely with all of the other guys in the party.

Expert

August 2021 British Columbia

Thanks to the wonderful lady at Moore's we were able to bring our vest in and try to coordinate with other options.All three of us decided it was best to buy the same vest for all of the guys as trying to match our grey was nearly impossible!

Expert

August 2021 British Columbia

View quoted message

Thank you 😊 I think my best bet is going to be taking the pieces I already own and getting somewhere like Moore's to help me coordinate everyone.It might even be cheaper just to rent the rest so that's a bonus in my books.

Super

November 2020 British Columbia

Since you already have a mismatched thing going on I would just have everyone wear a full coordinating suit. So if they have a black vest they should wear a matching black jacket/pants. Same for grey. It will probably look intentional if you end up with a gradient of greys to blacks similar to when you have bridesmaids in different shades of a colour.

I think if you try to mix and match black and grey in one outfit it's going to look like it was a mistake since they're pretty close in colour. Sort of similar to how when you pair navy and black it can look really wrong. Even if it's intentional, it's going to look like they got dressed in the dark. Just my two cents.

Expert

August 2021 British Columbia

Again the pants will be a proper black dress pants but this will be our sons outfits.

Expert

August 2021 British Columbia

Obviously they will have actual wrinkle free true black dress pants and not my faded work pants but this will be the groomsmen outfit

Expert

August 2021 British Columbia

View quoted message

That sounds amazing 🤩

Expert

August 2021 British Columbia

This is the vest colour with the black tie

Frequent user

July 2022 Ontario

I think a pink shirt will look very nice and pink is my favorite color too. i am getting my future husnand to wear a pink suit to match the bridal party color

Featured

September 2021 Ontario

View quoted message

Look, I'm just giving my opinion (and for the record, I've always said what I wrote in this thread is just that: an opinion and not fact). You literally asked if certain things in your team's outfit worked and I offered my opinion.

Expert

August 2021 British Columbia

View quoted message

When I posted the guys were going to wear the jackets but the kids wouldn't be able to handle the heat so I scrapped the jackets and decided maybe the wedding party wearing the same colour scheme so the groom stands out in his grey pants,shirt and vest and no his tie is not pink it's black.

Expert

August 2021 British Columbia

View quoted message

As for the snarky prom-y look the kids are teenagers so ya bow ties with a vest will look fantastic!They aren't wearing pinstripe shirts with little hats either so there's that.I personally think that vests are perfect for a casual summer wedding and I guess I will just wing it instead of asking people so quick to judge for fashion advice.

Featured

September 2021 Ontario

View quoted message

I'm confused, because you literally said your groomsmen are wearing their own grey suits and your Best Man is wearing a black suit. So by suit, did you mean just the pants?

And is the groom wearing a pink tie over a pink shirt?

Expert

August 2021 British Columbia

View quoted message

Nobody is upstaging the groom and he picked the pink shirt that he wanted.Nobody is wearing jackets just dress shirts and vests.The ties are the same shade of pink as the shirt and anyone that knows me knows that my favourite colour is pink which is why my fiancé picked the shirt he did.

Featured

September 2021 Ontario

View quoted message

So the dilemma is, your groomsmen are upstaging your groom. How much this affects you is based on how much stock you put into classic menswear and formality rules but by definition, your groomsmen wearing a suit jacket means they are more formal than your groom, especially your Best Man since he's in black. Even your sons will be more formal since they're in white shirts while your groom is in pink. So your groom will definitely stand out but unfortunately, not for the best reasons, in my opinion.

What colour are the ties? And are you absolutely committed to your groom wearing a pink shirt?

Vests with ties but not a suit jacket is incredibly difficult to pull off, in my opinion. It either looks overly prom-y, makes people look like waiters or like they're part of a barbershop quartet.

Expert

August 2021 British Columbia

View quoted message

The best man already owns his suit and I was under the impression it was grey but it's black.He is unsure if it will still fit him which is why I'm trying to decide if I should just have all of the men besides the groom do black pants and vests to break it up a little and not blow every bodies budget on new suits.I want the groom to stand out but at the same time I want our sons to match up with him as we officially blend our family.

Expert

August 2021 British Columbia

View quoted message

The groom is not wearing a suit jacket during the ceremony as it will be a mid afternoon august wedding which is why we bought the boys matching vests as there is no way they will keep a jacket on in the heat.I wasn't planning on doing the menswear at all besides the tie that I love because it's our colour but the groom doesn't seem to be on top of any of the planning so it's falling on me to figure out as we are already behind schedule according to ww.I wasn't trying to make them match the best man just trying to blend everyone nicely on both sides so that the groom still stands out instead of the best man.

Featured

September 2021 Ontario

Do you have a picture of your groom's outfit?

Just so I'm clear, you bought waistcoats that are designed and made for your fiance's suit to be worn by other people not wearing your fiance's suit?

Needless to say, having your sons wear black pants with a grey suit jacket and a different grey vest just to weirdly but not exactly match your Best Man is not a good idea. You made peace with your bridal party not matching so just let it go. It's much better to have everyone wear a proper suit than to have your sons of all people wear a Frankenstein of a getup to sort of match the Best Man of all people.

You do not need the same shade of white dress shirt. Just to re-emphasize this, stop trying to make people match. It's not necessary. Most of the white shirt will be covered up by the suit jacket, tie, and accessories anyway so no one will know whether the same is the same or not.

Why are you making your brother wear a bow tie if he's not a child? Shouldn't he have a neck tie like all the other adults?

Curious

August 2022 Ontario

Hi Sarah,

I totally could understand your frustrations and worries as I'm sure just about most brides-to-be would be questioning this too.

Some maid of honours have a similar look but their dress still stands out as different from the rest of the bridesmaids. Since your brother will be your Man of Honor, maybe him wearing a different shade of grey isn't a big deal? After all, it is in the same colour family and it would be no different than bridesmaids wearing different shades of the same colour family. It's more of a monochromatic look. My concern would be "does my groom stand out as "the groom"?".

Just curious - why is the best man wearing the black suit? Is he wearing a suit he already owns?

As for the bows, it would be nice for everyone to wear it since you purchased them already....Did your brother have something else in mind or express why not the bow?

Expert

August 2021 British Columbia

My other option is getting all of the men the same vest and maybe having them all wear black pants?
Groups
WeddingWire Article Topics