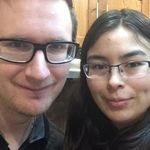 Expert
January 2019 Alberta
Future Brides Double or triple check Rsvps
So tomorrow is the wedding and we had our numbers in Monday. We then find out that a few children who weren't on the list are coming Wednesday. Now just saw one of my cousins post that they made it to Fort Chip yesterday. Which is like a 8-9 hour drive from my wedding and I highly doubt they will be making their way back down for tomorrow. I really don't care that they may no longer are coming, I just wish they would have told me sooner or even now so that I can fill the spots or ask the venue what to do. So frustrated, but not stressing as I am 30 weeks pregnant with our rainbow baby.
Latest activity by Bianca, on January 23, 2019 at 02:06
Master

August 2019 Ontario

View quoted message

That seriously sounds so amazing! Do you plan to make a post about your wedding when you get your pictures back? I think we would all love to see them


Expert

January 2019 Alberta

View quoted message

That is very true, at the end of the day they missed a once in a life time wedding. We had so much First Nations cultural tied into the wedding. I cried walking down the aisle for how beautiful it all was. We also had a feast song after dinner which included drumming. At the end of our videographers time we had a round dance and in the end he was in the middle and during part of the song we would bring the circle into the middle to him. I think our DJ also knew how special the wedding was going to be, he was the owner of the company and didn't have to work it himself, but he chose to even tho he said it would likely be someone else when we hired him.

Master

August 2019 Ontario

View quoted message

Ahhh. That's very frusterating. I know some people just don't understand the impact that being a no-show will have on something as grand as a wedding.

Expert

January 2019 Alberta

View quoted message

We had a few that got sick and one friend who's step mom passed away, so I totally understand those ones and they did message and say they couldn't come. Others forgot and didn't reply and one cousin had issues with childcare.

Master

August 2019 Ontario

View quoted message

Wow, that's nuts. I can't believe people have the nerve to just cancel at the last minute. Did these people even tell you they weren't coming or did they just not show up?


Expert

January 2019 Alberta

View quoted message

So even after there was 10 less guest than we thought there would be. I may even suggest estimate a bit lower if you won't get penalized for having more people. We had so much food that at the end of the night most went to waste.

Expert

March 2020 Ontario

View quoted message

That sounds frustrating! I heard this is something quite common for most people, try not to let it bother you! Which is probably totally easier said than done. I could see myself being quite annoyed at this myself, as I'm still at the guest list stage and that's all I keep thinking about! Should I bother inviting them, would they no show... But at the end of the day the important ones will be there, and you can maybe still ask the venue what can be done for this. It doesn't hurt to ask.

Master

August 2019 Ontario

Thanks for the RSVP tips! Congratulations on your wedding!!!


Super

September 2019 Ontario

Try not to let it get to you! Congrats and enjoy yourself tomorrow!

WeddingWire Admin

May 2015 Maryland

OMG I can't believe your day is here! I'm sorry about the potential RSVP drama but I know it won't make your day any less amazing!

Master

October 2019 Ontario

Congrats on getting married tomorrow!!

Don't stress! I swear some people do not understand what RSVP means sometimes! Delegate the task to someone!!




Master

October 2019 Ontario

That must be exciting to get married tomorrow, eek!!

I would message your cousin in Fort Chip (or get someone to do it) and see if they are still coming. I have definitely driven 8+ hours, stayed one night and turned right around, so they might still be coming lol!

Maybe if they are no longer coming, the kids who are now going might be able to fill the spots, but definitely get your cousin to give you a yes or no.

Anyways, enjoy your wedding!! And definitely try to keep calm!

Devoted

September 2019 Alberta

How frustrating! And definitely not what you need right now!

I'm definitely with Tori - find someone else who can handle this for you. And, don't be afraid to tell people that children who weren't on the original RSVP won't have a spot to sit or food to eat.

Sure you have things to handle today, but you and the little human inside you don't need anymore stress than you already have, especially with everything you've had to deal with leading up to the wedding. Hand this one off to someone you trust and let them handle it for you.

Enjoy every moment over the next couple of days. The good, the bad, the joy, the frustrations, all of them lead to you and your fiancé getting married.

Have an amazing wedding and congratulations!!

Top

October 2019 Manitoba

Yikes! Definitely don't stress!!! (I know, easier said than done...)

I'm sure you're already handling the situation but if not, if I were in your shoes I would literally look at my FH and say "This is not a problem I can handle - you fix. please. pretty please. k thanks, love you byeeeeee."

I would also have no problem telling the people who brought extra children that they can't bring them. Then again, I'm not having ANY children at my wedding so... As for the guests that may not show - I would send them a DM/PM on whatever social media they posted that on and be like "Hey, long drive to the wedding - are you going to be able to make it?" It really could have slipped their mind (you've got to think the best in people), and that would suck if they missed it because of a (major) brain-fart.

Okay, GO ENJOY GETTING MARRIED!!!! CONGRATS!!

Expert

March 2019 Ontario

Congratulations on your big day tomorrow!!! How exciting!!! I'm sure you must be frustrated & it's not right but I think that it's out of your hands now. Can you supply your venue with take out containers for the extra entrees to go in & then have someone take them home to freeze? I have heard venues give that option. My Cousin had 22 People not show up who had RSVP'D yes.
I'm sure today will go by in a flash! I hope you are able to enjoy this time. I wish you all the best tomorrow!!!
Groups
WeddingWire Article Topics