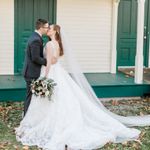 Frequent user
November 2021 Ontario
Finally took the plunge
We are finally taking the plunge and changing our wedding day from November 7th, 2020 to November 6th, 2021. Thought I would be excited but I'm mostly just nervous about whether it will even happen next year. Are you guys also nervous about your 2021 dates?
Latest activity by Vinod, on July 29, 2020 at 20:02
Frequent user

May 2021 Ontario

Sorry to hear about you having to change your date! I felt relieved at first but as things have been continuing I'm getting more nervous about it. We changed it from June 27th 2020 to May 29th 2021. I'm worried that there will still be restrictions on what is allowed (like maybe we can't have a buffet or maybe we won't be able to have dancing ect) even if the ceremony can still happen. Trying to be optimistic. If there are a lot if restrictions still or if it ends up being a lot more money because of changes that need to be made (I was told the cost of dinner may differ if we have to have plated dinners because of restrictions or if food prices are higher, which makes sense) then we are planning to just elope. The whole pandemic wedding thing is annoying and the uncertainty is stressful.
Groups
WeddingWire Article Topics