Hello All!
I recently went to David's Bridal with the intent to try on more dresses that my mom wanted to see and a few that I have liked since checking out their online inventory and now I am stuck. After I would say trying on about 18 dresses - I have actually cried to the first gown ever. I love everything about the dress. It has a slit, full of glitter, diamond beading, 3D lace flowers throughout, see-through bodice, a bit bigger than a A-line, off the shoulder sleeves and a sweetheart neckline.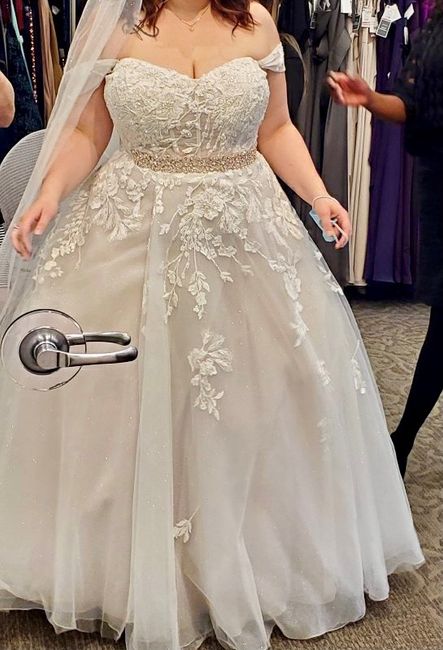 This is it on me, I added the belt and the manager came behind me and tightened it even more for me so it looks more realistic and not baggy on me. Like I said I cried my eyes out it was perfect.
Now that it has been two days since wearing it - I have had some clarity and I feel like as I can not 100% go through with this one because I still have an other dress I think about. Mind you on the day I found the dress above I didn't think about it at all - it was not in my head or anything but now that I have had that post clarity I can't stop thinking about both.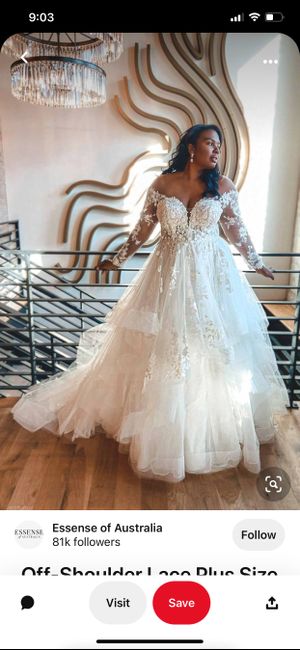 This is the other one I cannot stop thinking about - it is coming to store near me sooner rather than later and I feel like I can not say yes to other dress until I at least try this on.
Is this normal? Should I wait to try on the long sleeve dress before saying yes to the off the shoulder dress? I am not sure what to and I feel a little over whelmed.
Thanks in advance