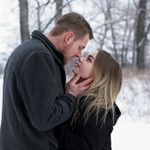 Curious
April 2017 Alberta
Busy busy busy!!
So I haven't been on wedding wire for quite some time. I've been soo busy!!!😀 been working a lot, spending time with the LORD and planning the wedding. I have decided to follow Jesus and have made alot of changes in my life. Everything with the wedding is coming together (although I'm doing 90% of it on my own) we have a venue, a baker to make our cake, a pastor to marry us and council us. Got most of the invitations done today, made my own r.s.v.p's this morning... at work😉 the only major things I need to get done yet is buy my beloved a wedding ring, send out all the invitations, and decide on ceremony and venue decorations. And mostly just pay everything off. I'm soo exited about how far we've come. Our big day is just 55 days away. I'm starting to see beyond the wedding and into our future marriage (Lord willing) and can't wait to start our lives together.❤ the Lord is really blessing me.
Latest activity by Maria, on February 27, 2017 at 14:14
Curious

April 2017 Alberta

Hello and thank you. Yes I changed my mind because I found an amazing baler to do it for a decent price. And I was thinking I'd rather take more stress off myself. I will have to do alot of things the week of and the day before my wedding so I don't want to overwhelm myself.
Groups
WeddingWire Article Topics