Post content has been hidden
To unblock this content, please click here
Frequent user
September 2022 Ontario
Advice on following up on pending rsvps
Our RSVPs are due for our out of town guests that need to fly for May 15 for our Sept 19 2020 wedding. We sent our out of town guests invites before covid really hit at the start of March. I won't follow up til after May 15th but just wondering how to go about this conversation during this awkward time. We will be making our decision to post pone or not in Mid June.
Latest activity by Ashley, on May 4, 2020 at 21:23
Just keep people posted and have a website so people can check the info closer the wedding date

Top

October 2019 Manitoba

I would say to follow up when they RSVPs are due - even with COVID-19 being a thing, guests should be RSVPing as tentative at very least. I know that's what I would do as a guest... "My Husband and I will be attending your wedding as long as there are not restrictions in place due to COVID-19 or the wedding being postponed/cancelled." is for sure a thing that people can/should be doing.

Master

October 2020 New Brunswick

In normal circumstances I would say follow up sooner than later, but right now everything can change so I would wait until you know you're having the wedding for sure and how many people you can have there. You might call guests to confirm they're coming only to need to call them again to let them know there are too many guests etc.

Frequent user

September 2021 Ontario

As for making conversation, it depends on what you plan on doing. If you're postponing then get in touch with your guests to let them know. If you're going through with the wedding then simply ask "I've noticed you haven't responded yet to our RSVP, was wondering if you're going to be attending?"


We initially wanted (before we postponed) to call people and ask if they would "feel comfortable attending", but then realized that by doing that we would be putting our guests in a very awkward situation. That was one of the reasons we postponed.

It depends on how you and your future FH want to proceed with your wedding date. All the best to you and I hope your date works out!! Crossing my fingers!

Frequent user

September 2021 Ontario

View quoted message

I agree with this. Better to follow up sooner rather than later, especially for people who have to travel far and have already made payments for accommodations/flights/etc. It's not fair to guests to leave them hanging until the last minute.

Featured

August 2017 Ontario

Its better to follow up sooner since travel plans have to be altered for your guests to come. You don't want them hanging by the thread to know towards the last minute. An email of change the date is easier to send everyone.

View quoted message

We aren't following up until a few things happen; one, we want to see Doug Fords plan to reopen in Ontario which he is setting out this week; two, we'll wait to see what opens throughout May and June.

Once we know the wedding is for sure happening, we will then follow up. So we may not call people until 2-3 weeks before the wedding and that's looking on the bright side - it might be days before worst case.

Frequent user

September 2022 Ontario

View quoted message

Will you still or have you followed with pending RSVPs?

We're waiting to see what happens with our July 18 date - we spoke with our venue and told them there's no way we would be able to give them our numbers a month before.


We may be giving them numbers a week before! I think it also depends on where your guests are coming from.
We have friends in England and they think England will be on lockdown until September. So most of those guests will likely be unable to attend.
Not sure if this helps at all but this kind of our plan - "wait and see".
Related articles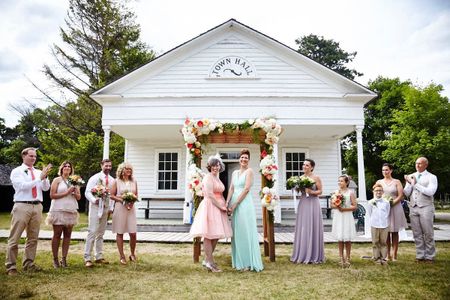 Groups
WeddingWire Article Topics