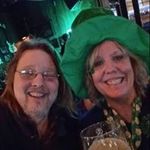 Robin
Baie-d'Urfe, Quebec · From October 2016
I am a Teaching Aide at the high school level and my place of birth is Montreal. Never thought I would ever get married again but I'm happy to say that it... View more
I am a Teaching Aide at the high school level and my place of birth is Montreal. Never thought I would ever get married again but I'm happy to say that it is to my bff Brendon Sawatzky.
Happily married 🎉
November 18, 2017
Take part in the discussions
Need help planning your wedding? The WeddingWire Community is the best place to ask questions and share your ideas with other engaged couples.