Post content has been hidden
To unblock this content, please click here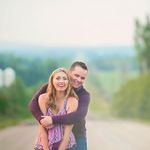 What kind of "cake" would you choose??
A: traditional cake?
B: pie cake?
C: cookie cake?
D: something unique like a sushi cake?
*photo credits to google 😋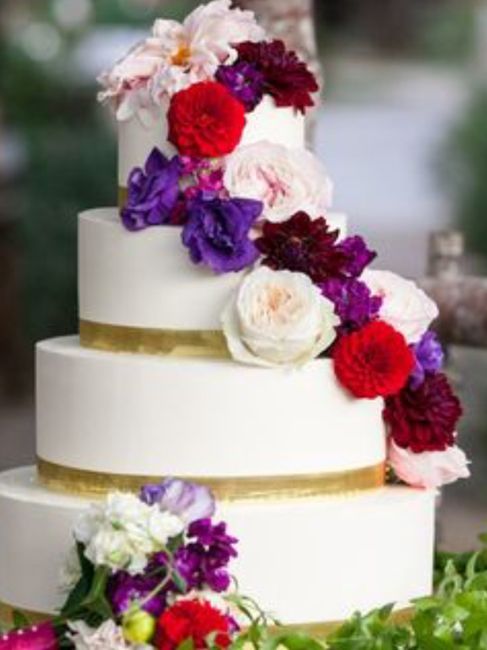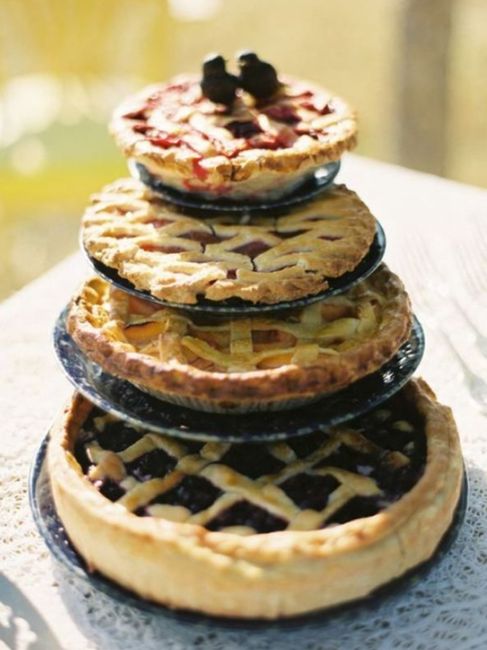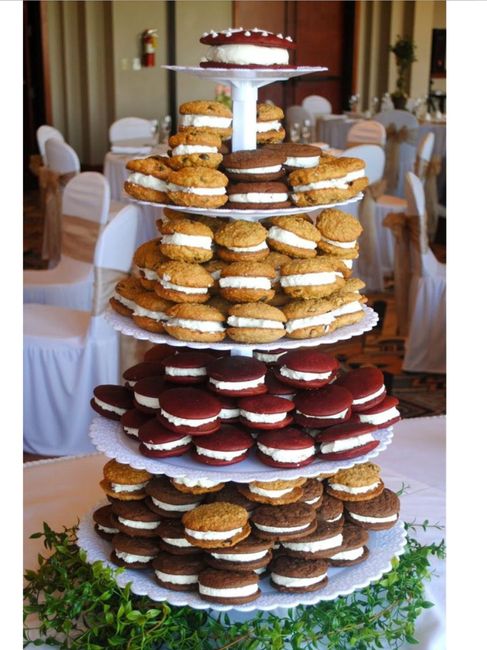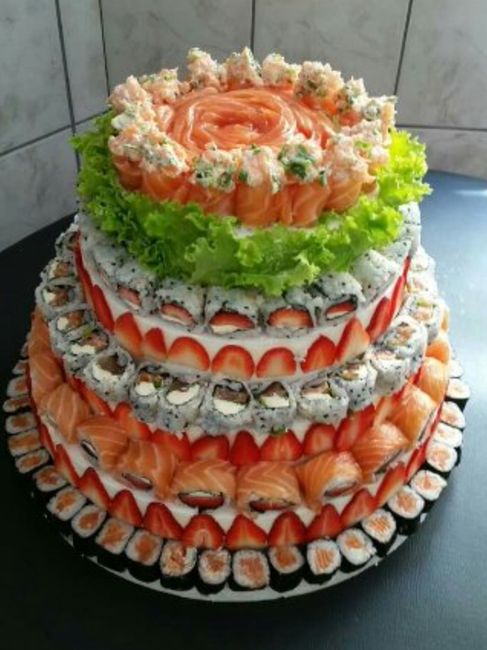 Latest activity by Robyn, on November 4, 2018 at 23:11
Oooh i saw a macaron stack cake online

Super

October 2019 Ontario

We are doing a traditional cake but set up on a massive assorted desert table. Most of our budget is getting hemoraged into food because I feel that is going to be the most memorable part of the wedding.

Devoted

January 2021 Ontario

It's between the traditional cake, and the cookie cake.

Super

March 2019 Nova Scotia

I currently want to do macaroons and I love the idea of a tower so it gives that fun look like a cake does.

Super

September 2019 Ontario

I want pie or ice cream cake, since I prefer those. We're certainly not doing both dessert AND cake, so we have to choose. We're also getting married on my FH's birthday, so I thought a small birthday cake for him would be nice.

Curious

August 2019 Ontario

Oh man wish I thought of this before. I would have loved to go with a cookies.
But this time around ( renewal of vows) my husband and I are doing small cake for us and cupcakes for the guest's. First time we did traditional 3 layer cake with my favorite flowers made of fondant and our colors of navy blue with silver.

Frequent user

July 2020 Quebec

For looks: traditional cake.

For my tastebuds: i much rather pie haha

Curious

July 2019 Ontario

Traditional cake for sure as we love old-school stuff! Will look into some dairy-free options too~


Frequent user

August 2022 Ontario

We're having my best friend/MOH bake us a little naked cake (thinking chai or lemon/lavender) & we're having a mixed dessert table with pies, bars & cookies etc! Oh, and nixing on the "cake cutting/feeding each other" thing... Nope! Haha

We are hoping to have one or two tiers of cake and oodles of pretty cupcakes

Frequent user

May 2018 Ontario

A traditional cake for the top and then a cupcake tower underneath.

Curious

October 2018 Alberta

VIP

April 2019 British Columbia

Cakes are beautiful but we're having a brunch reception so going for We'll likely go for a pancake stack/cake, mille cake, or cheese wheel cake...




Super

August 2018 Manitoba

I'll be going with a traditional cake, and also plan on having a desert/candy bar table!

Curious

January 2019 Ontario

I was going to skip the whole traditional cake thing, but I was swayed by this great baker who does these beautifully artistic cakes with breathtakingly real sugar flowers. So in the end, I will be doing an assortment, one small cake with all the extras, mini cupcakes for the guests who like cake and pies for my hubby to be and those who don't like cake! A little over the top, but you have to do what you like!

My cake inspiration photos...

Anemone ombre cake - via Style Me Pretty

Hand made sugar flowers and cake by Warrior Cakes




Part traditional cake and assorted pastries.


View quoted message

Me too!! I don't think my fiancé would mind it but it would be hard to keep it cool without having to worry about fridge space and it would be so pricey!!!

View quoted message

That's awesome!! My fiancé chose the flavours and we looked at Pinterest together. It was a lot of fun!

View quoted message

Totally valid! Cookies sound awesome so I think we are having a cookie bar on top of our wedding cake.

View quoted message

I saw that on some type of social media! The cheese cake looks amazing!! And my fiancé would absolutely love this!! Yeah crazy about the pie thing! Somehow all of these cool ideas seem to come after! A donut tower sounds amazing!!

View quoted message

I don't mind cake but I won't just go out and eat it! That's why I brought my fiancé and his mom to the cake tasting because I am not a huge dessert fan like they are.

I would love a sushi cake but my fiance would not lol to probably just a traditional one

Frequent user

August 2018 Ontario

I'm actually giving the cake design to my FH. He has a vision in mind and since I've chosen everything else, he wants the cake

Expert

November 2019 Ontario

I don't think we're going to do a cake, but if we did I'd pick cookies/cupcakes!

WeddingWire Admin

May 2015 Maryland

B! I also don't really like cake, so I had a donut tower and a bunch of pies (we didn't stack those though, looks like I missed a trick!)

I also loved the idea of a cake made of cheeses, but my DS isn't nearly as much of a cheese fanatic as I am. We compromised and had a cheese station during our cocktail hour, but no cheese-cake.

#goals

photo from Pinterest

Master

September 2017 Ontario

View quoted message

Most people think it is weird that I don't really like cake.




View quoted message

Haha that's awesome! I'm terrible! I don't actually like pie. Everyone thinks I'm crazy for it lol

View quoted message

That's true! I like the look of them! They are quite pretty! They just don't work for my style for my wedding.

Master

September 2017 Ontario

A pie cake for sure! I love pie!!!




If it was a dream/fantasy wedding, I would 100% pick D, a sushi cake!! Made of sushi of course! (Not cake that looks like sushi). For my actual wedding, I am choosing A, a traditional wedding cake.

Newbie

October 2018 Ontario

Im a total fan of naked cakes! they're simple and elegant with very light textures and frostings. Plus you can mix up the berries to whatever's your favorite.
Groups
WeddingWire Article Topics