Recently I've seen a lot of posts about people stressing or panicking about their upcoming weddings and covid restrictions. I thought I'd go over my pandemic wedding story to give you some of my fails and successes regarding how to plan during this crazy time, but mostly just to let everyone know that you aren't alone. So many of us have had similar struggles with planning over the last 14 months or so. It really sucks and at the end of the day we all need to do what is best and safest for ourselves and our loved ones. But whether that means postponing until things are safer or scaling back and having a small covid safe ceremony now, I promise that your wedding day will be special and memorable.
TL;DR: We got married on our original date with a small 10 person ceremony at the peak of the second wave. We made a million plans that all fell through but I'm still glad we went ahead with it!
Plan A: My husband and I got engaged in early December 2019. We chose a wedding date of November 28, 2020 because it would give us about a year long engagement and it was the third anniversary of our first date. We started booking vendors in January and by the beginning of March 90% of our planning was done. I sourced most of our decor, we had our venue, caterer, photographer, coordinator, my dress, my husband's wedding band, and our 100 person guest list. The only major thing left was our bartender.
Then the pandemic happened and we paused all of our planning for several months. We didn't think the pandemic would affect our wedding which was still more than 6 months away, but we decided then that we would get married on our original date no matter what it looked like.
By summer it was obvious we weren't going to have our wedding as originally planned. We reached out to our venue to see what our options were. We were hoping to have a small ceremony and to postpone our reception to late 2021 or sometime in early to mid 2022. We were told we could go ahead on our original date but with only 25 people given the venue's capacity - all with masks, distancing, etc. Postponing wasn't an option because our venue was being demolished and would not be available after December 1, 2020. The venue would try to return deposits but there was no guarantee. We ultimately decided to take a chance and request our deposit because we couldn't justify spending the full venue cost on a wedding we weren't happy with - we did end up getting it back, but we thought the money was gone forever.
Plan B: At this point we decided to just have immediate family for a small ceremony and dinner. We found a new venue through my husband's work and kept on planning. I came up with a full timeline of the day, a floorpan for the ceremony and reception, and new decor ideas. However cases were rapidly increasing in BC and a few days after securing this venue we were told they couldn't accommodate us anymore. We were about 6-8 weeks away from our wedding at this point and scrambled to find another plan.
Plan C: We settled on a ceremony in an outdoor setting to keep our officiant and photographer as safe as possible (despite the 99% chance of rain in Vancouver in late November) followed by dinner with our families in our 750 square foot condo. In hindsight the dinner part of this was a terrible plan but we were desperate and I'm not sure we were thinking clearly. I placed an order for rental tables/chairs/linens/dinnerware/etc, created a floor plan to squeeze everything into our apartment, and I contacted several outdoor locations to use for our ceremony. Then about 4 weeks before our wedding, BC brought in further restrictions prohibiting more than 6 guests at a time at a private residence. Our immediate families would make 10 guests, not including us. Cases were also increasing exponentially and we were getting nervous.
Plan D: Since my family was travelling from Alberta for our wedding, we made the tough decision to have a post-wedding dinner with only them at our apartment. We would then wait 2 weeks to have dinner with my husband's family who lived nearby to reduce the risk of transmission. But within 2 weeks this plan was also disrupted when even stricter rules came into play. No social gatherings whatsoever. Wedding ceremonies were limited to 10 people. These rules were set to expire a few days before our wedding, but we were pretty sure they would be extended. We prepared for the worst and started working on Plan E.
Plan E: As anticipated, the restrictions were extended and we pivoted once again. My family cancelled their trip to BC. We found an area in a public park to have the ceremony and I spent a few days decorating our apartment and making our cake for our virtual reception. My husband and I got ready together at home the morning of our wedding and met our photographer a few hours beforehand to take photos. We live-streamed the ceremony for my family. My husband's family was able to attend in person. Afterward, we ordered takeout from a nice restaurant and video chatted with our families. While it wasn't at all what we originally planned, I loved our wedding day and wouldn't change it if I could.
During the planning and replanning process, we received a lot of unsolicited opinions regarding how we should proceed. Some people said we should postpone due to weather concerns (??) others said we should "get it over with" and just sign the papers. Obviously none of this was very helpful and it caused us a lot of unnecessary stress. I will say, we did also receive a lot of support from other friends/family, but unfortunately that tends to be overshadowed by the negative.
Fortunately my husband and I were on the same page throughout all of this and we knew we just wanted to get married. We ended up having a great wedding day and I'm really glad we didn't listen to the outside opinions we were getting.
A few final words of advice (feel free to ignore per second point of advice lol):
Coming up with as many plans as possible. You think you've planned for the worst case scenario? Think again! We didn't end up needing our worst case scenario plan, but we were fully prepared to elope with the bare minimum of 5 people in attendance if necessary. Don't get me wrong, it is A LOT of work to make multiple complete plans for your wedding day. But when you're a week or two away from your wedding date and restrictions are constantly changing you will be glad you're prepared.
Limit outside opinions. If possible, don't listen to anyone other than you and your partner. It's your day and you should be happy with whatever you choose to do. If you want to postpone because you can't imagine your wedding without all of your guests and dancing and hugging then postpone! If you want to elope because you're sick of planning during a pandemic then go for it!
Make the most of your pandemic wedding. We could have easily cancelled our photographer, worn more casual clothing, and ordered pizza for dinner, but we still wanted our wedding to feel special. Just because you can't have the wedding you planned doesn't mean you can't still have a beautiful and meaningful day. So wear your dress (or something else special if you really want to save it), go all out with decorations, take lots of photos, and celebrate that you just got married!
I hope that this is helpful for at least one person out there and ideally this kind of advice won't be necessary for much longer. Just know that no matter what happens you can make something work and I think as long as you make the best of it you'll have an amazing wedding day.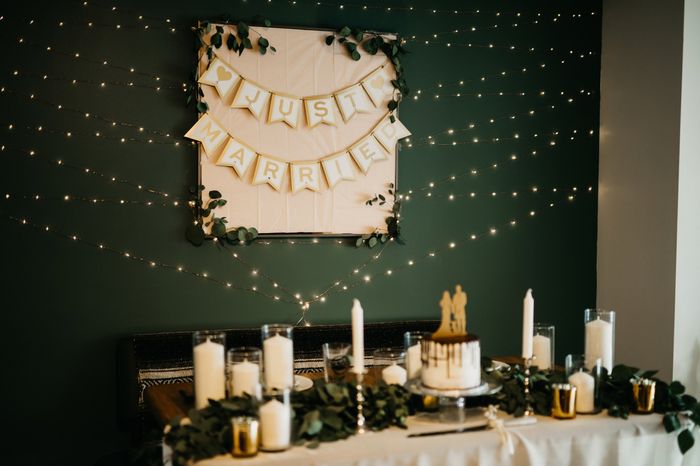 Photos by Shannon Elmitt Photography