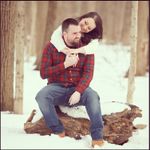 Expert
October 2022 Ontario
Walking into the reception
What song is everyone having their bridal party/ themselves enter to?
Latest activity by Lee-Andréa, on February 24, 2020 at 20:42
Curious

October 2021 Ontario

"Let's Dance" by David Bowie! sets the tone right off the hop.

Expert

August 2019 Saskatchewan

We decided to go with "I choose you"-Ryann Darling , such a cute song! It didnt have any special meaning to us other than I really liked it

Oh gosh read the title wrong! Those are our ceremony songs. We are not doing a formal reception introduction. Haha opps!

Love me like you do - Boyce Avenue cover for processional. Capital letters by Hailee Steinfeld for the signing song, and then everybody talks by neon trees for the recessional

View quoted message

They headlined for Florida Georgia Line last year when me, FH, MOH and BM saw them last summer! Really great group!

Devoted

August 2020 Saskatchewan

View quoted message

I love this song! My FH and I love watching the CFL and this has been the song they play at the beginning of the games because it's really upbeat!

Master

October 2019 Ontario

I had the parents, and the wedding party walk into their own song. This way they had their own little time to do a dance!

We walked into Uptown Funk by Bruno Mars. We had a serious list of 10 songs that we slowly worked to narrow down. It was either that or Enter Sandman... very happy my Husband picked Bruno Mars lol

Expert

October 2022 Ontario

View quoted message

That sounds really nice

Top

October 2019 Manitoba

We all walked in to the song All You Need Is Love by The Beatles Of course it went along with our hashtag (#LoveisDollYouNeed), and we had the wedding party announced for the first minute and we didn't get announced until the one minute mark right before it starts the "All you need is love" part!

Newbie

September 2022 Ontario

So far, all my bridesmaids+groomsmen (walking into the reception paired) will choose their own song ! So far I have a duo walking on Electric Avenue (Eddy Grant) and one on This is how we do it (Montell Jordan). Still 4 songs remaining... 😂

For the reception, my MOH and BM are going to enter into "Long Live The Night" by the Recklaws - a Canadian country group!

Expert

October 2022 Ontario

View quoted message

Yeah agreed. I'm thinking something upbeat as well.

Expert

September 2020 Quebec

Colin James- Into the Mystic


Instrumental Cover - Love Song - TESLA


Train - Marry Me Cover (Piano/Instrumental)





We are still deciding on the Recessional, we want something upbeat and fun as we all leave down the aisle.

Expert

October 2022 Ontario

View quoted message

Ouuu that's a great one

Super

October 2021 Alberta

Hello! We are having "Shut Up and Dance with Me" by Walk the Moon.
Groups
WeddingWire Article Topics