Post content has been hidden
To unblock this content, please click here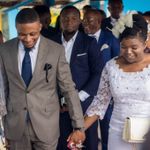 Newbie
July 2020 Manitoba
Should the groom see the bride before the wedding?
What are your thoughts? I would love to hear.
Latest activity by Leah, on January 7, 2019 at 10:01
VIP

April 2019 British Columbia

I don't care if he does or not, but my FH said he doesn't want to do, that's that - he won't. 🤷🏾‍♀️

Newbie

January 2019 Ontario

I'm not sure that it's because i'm old fashioned or just because i didn't want either of us to cry prior to the ceremony but we didn't do first look. My sister on the other hand, did all her photos before the wedding so they could actually enjoy the entire day uninterrupted. Its really about what you two want, how you think you will react etc. What makes most sense to you two? What we did instead of a first look was write cards to each other the night before the wedding.... we were supposed to read them prior to the ceremony but i kept mine until we got back to the hotel because i didn't want to cry. I survived the whole wedding without tears but damnit that card got me. Opening the card makes a nice photo opportunity/ or for your videographer if you have (we didn't) just each of you reading the card from the other. Food for thought, it all. Congratulations to the two of you and all the best no matter what you end up doing!

Expert

November 2018 Ontario

It really depends. We did a first look which worked great for us. We are really better together and we wanted to get our photos out of the way and not make guests wait a long time between ceremony and dinner. But I know some couples that were so anxious for their wedding ceremony, that none of their photos turned out until their ceremony was over. The main thing is, in order to make time for photos, guests have to wait. If your wedding is somewhere where guests can do something in between ceremony and reception, then it's really up to you what you prefer to do. If people are going to be stuck milling around between ceremony and reception, then its probably better to have a first look so there's less of a gap.

Expert

March 2019 Ontario

Our Photographer just asked us yesterday if we are interested in doing a 1st look. I looked at my Fiance and said no. I am old fashioned and i'm so looking forward to the moment our eyes meet when I am walking down the aisle. I am going to have a 1st look with my Dad.

Super

June 2019 British Columbia

I'm a bit old fashioned that way- I don't want to see him until I walk down the aisle. That being said, there's some really beautiful photos that come from a first look, they're just not for me

Master

August 2019 Ontario

We're doing a first look but it's purely because we want our pictures to be done when we both look fresh and we don't want a long gap between the ceremony and reception.


We had known what we both had to wear and based on our outfits. We had the room for 2 nights (given the wedding night was free of charge) and did the pictures in the living room to get ready with our families individually.


Frequent user

June 2019 Manitoba

We're doing a first look the day before so we can do first look pictures and other shots of just the two of us. It sounds kind of funny but for us it'll make us calmer I think. I don't think he'll react the same if he's standing in front of our 60 guests watching me walk down. And we also wanted to get some pictures done so that the wedding day isn't so hectic and long. We're having a brunch wedding at 11am. We didn't want people having to wait to long to eat. I also think he'll be more comfortable taking pictures if we aren't rushed and also if there isn't as many people around since we're doing our photos on the property where we're getting married.

Super

July 2018 British Columbia

We stayed apart the night before the wedding, but only for convenience sake- he got ready at his groomsmans house and I got ready with my girls in our house. We texted in the morning (he was having a bow tie malfunction) and he called me a couple times (again re: wardrobe malfunction) It was pretty relaxed.

Then we met at the park where our ceremony was and did a first look and all our wedding party photos before the ceremony. It was perfect! So nice to see him and have some alone time to de-stress before our ceremony. I definitely felt it did not take anything away from how special the moment was when I walked down the aisle. If anything it added to it because there was so much emotion even having spent the morning together.

So totally a personal choice, but if you want to see your future hubby the morning of your wedding I'd say go for it!

Super

March 2019 Nova Scotia

This is 100% a personal decision, we were back and forth for a while. I now think we will all get ready in the same house but he will not see me in my dress until walking down the aisle.

It truly is a personal decision. We will not be spending the night together the night before. I'm staying at the hotel (my room is a suite, the girls are getting ready in). and he is staying at our house and then going to the best mans house to get married.

we will probably text a bit during the day/getting ready (I honestly see it happening as he will have forgot something. hahaha).

I didn't want to stay together the night before. and he was adamant that we don't. and he was VERY adamant about not doing a 1st look. he wants the first time he sees me is when I walk down the aisle.


Master

October 2019 Ontario

We will probably spend the night before together since we'll either be at the hotel or at my parent's house. We'll only see each other a bit in the morning before I go get my hair started.

My FH's dad will also be in London from Windsor the night before, so he could stay there with him so we don't see each other until I walk down the aisle. The end of the day, it depends on what you want to do, but I always imagined seeing my FH when I want down the aisle.

We're spending the night before together... but we have 2 small kids. So we will see each other in the morning, have breakfast and then he will take the kids with him. After that we won't be seeing each other til I walk down the aisle.

Super

September 2019 Ontario

View quoted message

I agree and this is pretty much what we're doing, but do whatever is most comfortable for you two. There are no hard and fast rules - it's your wedding, so do it your way!

Very personal decision! My FH and I have decided to not do a first look or anything, he will see me first coming down the aisle!

The night before is the rehearsal but I plan on making sure we are apart before midnight! I do not want us to see each other before the ceremony! I think it makes the anticipation so much better! Also I will be giving him my letter right before he leaves the night before~ Make everything even better then!

Master

October 2019 Ontario

It is really up to you guys and what you want!
We will be sleeping separately the night before and then doing a first look as our ceremony is at 5 and then reception right after.
This way we can get majority of the wedding party pics done before hand and then sneak a few in afterwards

Devoted

April 2019 Ontario

He won't see me untill I walk down the aisle. Absolutely nothing from me.

British Columbia

It honestly depends on you. Some couples say "we've been sharing a bed for 6 years, there's no surprise to not sleep together the night before"... and they get ready together and everything. I think this is awful, honestly. You can be together 10 years, and I still think you should build some anticipation and excitement on the day of your wedding.


However, some people are dead set that they sleep separately, no communication whatsoever (even text), and don't see each other til you walk down the aisle... Which is fine too! But my FH and I would have far too many nerves to do that.

We're meeting in the middle, much to my mother's dismay. We are staying apart the night before, we won't communicate til later in the day, and my bridesmaids and I will have certain things we can't photograph/post (they enjoy their social media). So no faces, no dresses, and select accessories. They can share sneak peeks of some things if they want, but I don't want anything given away.

Then, due to our Winter day timeline, and needing daylight for photos, we are doing a First Look and all our photos pre-ceremony. My FH is not comfortable showing emotion in front of crowds, so I believe I'll have a much more genuine emotional reaction to my dress/look if we get a more private moment, than him seeing me for the first time in front of 100+ people.

Either way there's no wrong answer, but do exactly what YOU want to do, no matter what anyone else's opinions/beliefs are. You need to be happy with your choice!

Expert

August 2019 Saskatchewan

We both want the first time he sees me to be walking down the isle so I will see him the night before, and then head home and hopefully have a good nights sleep and then see each other at the church!

Newbie

July 2020 Manitoba

View quoted message

I feel you on that. There's something about him seeing you at the alter waiting for you to walk down.

For my personal preference, I'm of the belief you shouldn't see each other before. My FH and I will sleep separately the night before and the next time I see him will be when I'm walking down the aisle! I'm really excited for that moment.

Newbie

July 2020 Manitoba

Wow that was such a quick response. I appreciate your feedback. I feel you totally shouldn't matter. I guess it's just a preference.

Top

October 2019 Manitoba

I say go for it!

For my wedding we are having a first look photo shoot so I don't see why it matters if you see your groom when you wake up either. I won't see him until the first look but I mean, that's less time than our everyday lives of me waking up and going to work before him and not getting home until 10 hours later so I think we can handle not seeing each-other for about that on the day of the wedding (sleep time not included).
Groups
WeddingWire Article Topics