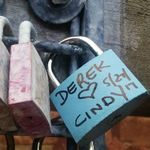 Devoted
July 2019 Ontario
Otello's (oakville) new ownership
I had sent an email to our venue, Otello's, a few weeks ago. I didn't get a response and I thought perhaps it's just a busy time as it's wedding season. Well today I went to a shower at this venue and found out the reason I had no reply is the person no longer works there and the venue has a new owner and in the middle of changing its name. It sounds like the venue will honour our package and deposit but I am still concerned. I'm now thinking insurance may be a smart thing to do. I am annoyed that the venue didn't inform us of these changes. If anyone else is booked here, heads up.
Latest activity by Cindy, on July 9, 2018 at 21:50
Devoted

July 2019 Ontario

View quoted message

Hi Carley! First off, congratulations on your wedding. I'm so happy it was a wonderful day for you. I am so glad to hear from you. I appreciate your message. I will take your recommendations on the dessert...sounds refreshing for a July wedding. I just heard from the new manager, Ewa and from Dale. I still have to make contact with the florist. We plan on having him as an M.C. as well. But I like the online planner he sent. Did you use the hotel? That's the one that I'm having trouble contacting for booking our night and setting up a hotel block. Ewa said she'd look into it and so I'm hoping she has better luck! How nice of them to move your ceremony indoors; however, the patio is a beautiful setting. Our ceremony will be at a nearby church.

Thank you for putting my mind more at ease!

Hi Cindy! We just had our wedding at Otellos (now Noble Hall) and it was amazing!! It was the hottest day of the year so we brought fans with us for inside and moved our ceremony from the outdoor patio to inside (we were in the smaller hall). We made this decision the night before and Patrick the manager was amazing, he made this change and others for us without any issues. Every single guest commented on how amazing the food was (get the Lemon drop Delizio for your dessert, it is unreal!! Not one plate had any left!) I had several people tell us the food was the best they had EVER had at a wedding. Dale the DJ was amazing as well, he also MC'd for us. I wouldn't have changed a thing, it really was perfect! The staff were great and Patrick is wonderful.

View quoted message

Joanne was very nice as well, I think it was a fast sale and a lot was going on. From what I know everything is business as usual, the chef is the same and the staff. Definitely set up a meeting. Patrick will put your mind at ease! Thank you 😁

Devoted

July 2019 Ontario

View quoted message

Oh Carley thank you for responding and letting me know. My fiancé and I were just saying today that we should set up a meeting and just make sure everything is the same. Patrick seemed nice when we met at that Baptism but so did Joanne and I thought it wouldve been nice for some sort of contact. I think I was just in shock initially.

4 weeks is so soon! Congrats and I hope it is an amazing day.

I also have My wedding my at Otellos in 4 weeks! I had no idea it sold, The previous owner even set up a meeting with me knowing it had or was about to be sold and didn't tell me. I did get a call from the venue and met with Patrsick the manager and one of the new owners area. They are great! They are honouring everything and I feel very confident everything will be great. Patrick is amazing, I'm looking forward to my big day!

View quoted message

Get the insurance! I sell it. and its worth it in my head. you never know what could happen.
that's good the manager is still there. that would ease my head too. I would try and book a meeting soon to just make sure to go over everything that was already discussed.


Devoted

July 2019 Ontario

The only comfort is the manager is still there. But I will still buy insurance when it's a year from the date (as I looked into it and the ones I saw said to buy a year away). Thanks for your help.

Super frustrating!!!!
Insurance is always a good thing to have. We purchased through PAL Insurance. However it won't cover you for situation like this if you purchased knowing their was an issue before hand. You could be denied coverage.
Might be worth to call to them though and inquire.
Good luck!

Master

August 2019 Ontario

Wow, just wow. I can't believe that is happening to you. Check your contract and see if it states anything about what would happen in the case of change of ownership. Good luck with everything. That's so frusterating.


That is super frustrating..I'd definitely look into something that will ensure that you have this venue booked for good and for sure other than. Definitely be sure to get a contract stating that they will honour your package and price in the date you picked. I'm shocked that no one even contacted you, super unprofessional on both the old and new owners. Best of luck, hopefully this is the only hitch in the road.
Groups
WeddingWire Article Topics