Thanks for the awesome wedding test Emilie! I am happy to talk about my dress.

I've never felt more beautiful than I did in that dress and I wish I had another opportunity to wear it! It was so amazing when my husband finally got to see it and he still talks about how much he loved it! (During the wedding planning process, I liked to tease him whenever there was a wedding dress on TV and say that that was my dress, especially if it was a ridiculous one!

)
Cut
When I first went dress shopping, I thought that I was between a ballgown and an A line. The second time I went shopping, I had a really awesome consultant and she found the perfect dress for me based off of what I liked. As soon as she brought my dress into the dressing room, I couldn't take my eyes off it. I never would have thought to try on a fit n flare because I thought it would be too restrictive but it was perfect for me!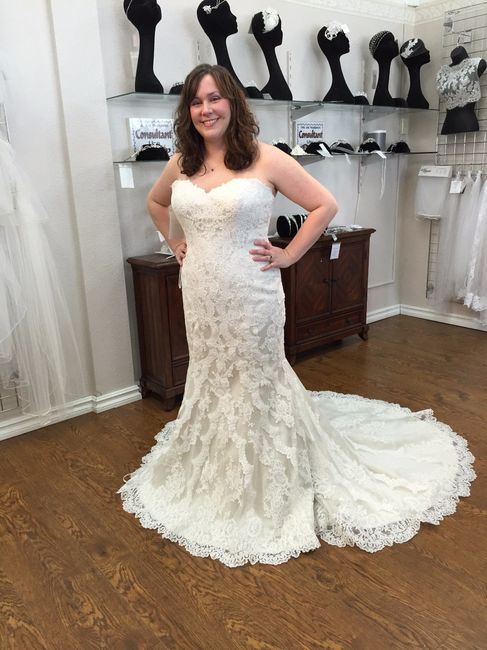 Neckline
I love the sweetheart neckline and think it's the best shape for me.
Sleeve
It was a "must have" for me to have a dress with sleeves or straps! My dress didn't have cap sleeves that could be added onto it so we ordered some lace straps from the same designer to go with the dress. I wanted thicker straps for more support.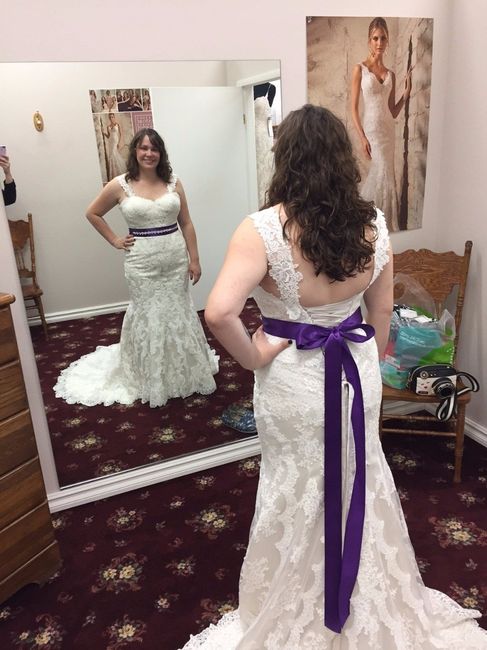 Belt or No Belt?
I still wanted to have my purple incorporated so I had to have a purple belt! We actually had one made. (it was so hard to find 2 inch wide ribbon in the right colour!) I think the belt really completes it and I like the contrast of the purple and little bit of sparkle against the lace.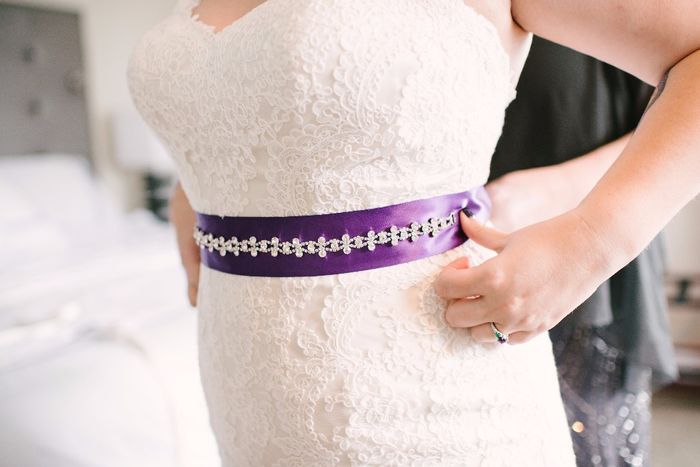 Back
It was backless but we added straps so I guess it gave it a square look.
Train Length
It had a chapel length train which was perfect. It was just enough to have an actual train without being too long to deal with! And it bustled well.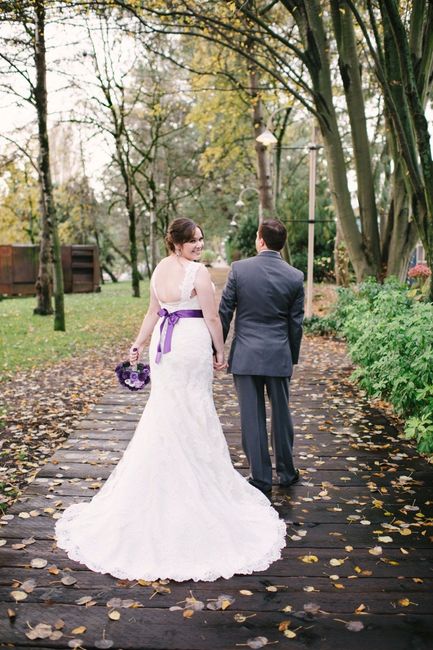 Colour
I went with ivory because it complimented my skin tone. I also think that the ivory underneath made the white lace stand out more.
Details
Lace was an absolute must have! That's what made me fall in love with this dress. I love that it's lace all over and doesn't have any beading to take away from it. I love the lace pattern at the front of the dress and how it flares out from the middle and then down the sides.
Veil
I had rented a short veil to wear for the ceremony but in the confusion of getting ready, we actually forgot to put it on! I realized halfway through the ceremony that I'd forgotten it and I whispered to my husband and he was like "are you ok?!" and I was like "yeah I'm great!" Haha I'm actually glad I forgot it because it would have taken away from my hair and the dress. We did go back afterwards and get a few shots with it.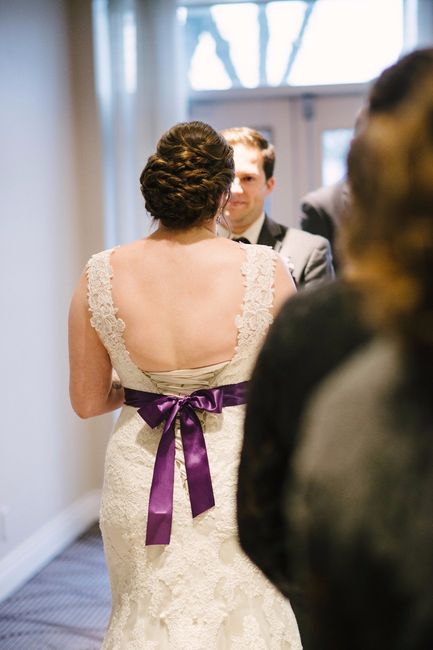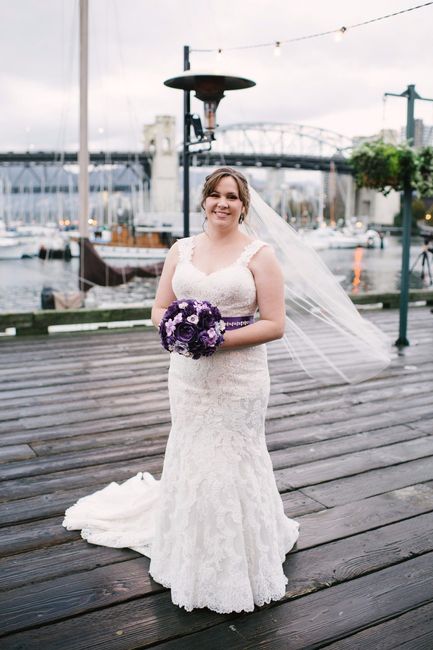 Hope I didn't bore everyone with my dress! The dress is one of my favourite parts of a wedding because I love how it suits each bride's personality and makes her feel the most beautiful she's ever felt so make sure to share yours too!