Curious
August 2020 Ontario
Maid of honour - is it necessary?
Hi all! So I was wondering what people's thoughts are on not designating a maid of honour. I am planning on having 3 bridesmaids and one junior bridesmaid and I'm not really sure that I want to designate maid of honour duty's to anyone specific. I love all of them equally so I'm thinking about just forgoing labeling one as MOH. Is that weird? Do I actually need a specific MOH?
Latest activity by Vinod, on September 8, 2018 at 10:26
Featured

August 2017 Ontario

You choose to have or not to have based on how much you're doing for the wedding.

We did have 4 only for the wedding party even though we didn't have to go with the idea.

Look at the view of whats important besides having witnesses for signing.

Curious

August 2020 Ontario

Thanks Janis! That's a good idea!

Curious

June 2019 Ontario

I don't know why the app didn't let me finish LOL basically, my big sister is my MOH but the "duties" haven't been specifically designated. I'm really relaxed but understand I have a timeline to stick to. If you feel there are specific things you need organized, pitch it with your bridal party and see who would like to take the reigns on tasks.

Curious

June 2019 Ontario

We have the same party! My two sisters and fiancé's sister are my bridal party and my niece (eldest sister's daughter) is my flower girl. I wanted to keep it close. I contemplated back and forth on having my two best girlfriends in the party BUT I didn't want my fiancé to add more grooms men for the sake of it. Anyway, my eldest sister is the MOH and she says she'll jump in with whatever I need. I've taken the reigns in planning because I have a particular taste whereas she was hardcore DIY when she got married five years ago.

No need at all! I actually dont even know what Maid of Honour duties really are? Aside from where they stand? For sure dont need a designated one! 100% your call I wouldnt see it being weird or out of place at all!

British Columbia

The only reason to really have a "MOH" title, is that person is the one who organizes the shower and the bachelorette, is the witness for your marriage license, and does the MOH speech at the reception.

If your girls can all equally plan your pre-wedding festivities, you can simply pick the closest bridesmaid (maybe if one of them is your sibling, family member, or life-long friend) to sign the marriage license. Then if you want someone to do a speech, just ask, or offer it up to them. Otherwise no bridal party speech, no biggie!

Master

October 2019 Ontario

It doesn't matter, I have 4 ladies in my bridal party. Originally 2 of them were going to Co-MOH but one has had life happen so she "stepped down" from the MOH role to bridesmaid (the MOH title was very unofficial). I have one MOH now but aside from being my witness and doing a speech with the other girl who was a MOH, she doesn't have any other duties.

As long as you have one bridesmaid to sign as a witness, you're good without a designated MOH.

I was in a wedding with no MOH. and it was no big deal. she determined how we walked in based on what guys we walked with (her hubby had a best man and an order). so the bridesmaid closest to her was the witness. no biggie.

when it came to planning her shower/bachelorette. we all just stepped up on what we were good at/liked doing.


Expert

September 2018 Ontario

You don't need to appoint someone as a maid of honour - this can definitely be a tough decision! The one thing you will have to choose which is normally one of the main duties of an MOH is who will sign the license as your witness.

Curious

August 2020 Ontario

Alright thanks for the feed back ladies! I had just never heard of a wedding party not having a MOH. I feel like all the ladies ive chosen are deserving of the title and I don't want anyone being bummed they weren't chosen and some one else was. My fh has a best man but I don't have one set "best friend" which is why I want to keep everyone as bridesmaids.

It's totally fine not to. I wasn't going to have one either. Then we decided we wouldn't have a wedding party, and just have our older daughters as jr bridesmaids. It can be really hard sometimes to choose one person.

Top

October 2019 Manitoba

I don't think that's weird at all! It's your day so the focus should be on you anyway so it's not like anyone would even notice.
Related articles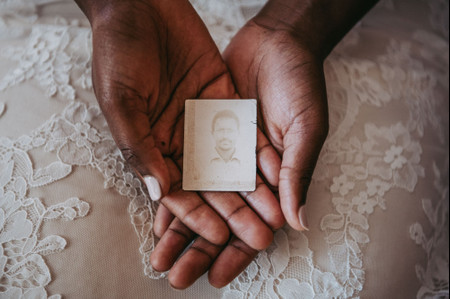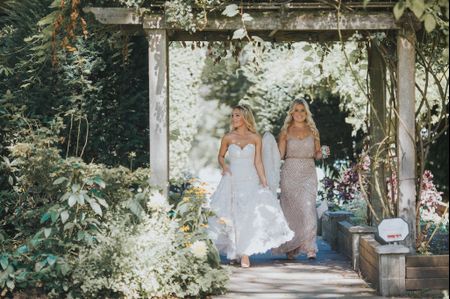 Groups
WeddingWire Article Topics