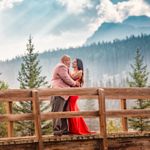 Long engagement
Anyone else have a long engagement? Our wedding is May 24th 2025. For years from now. But we're also older, expanding our family and trying to buy a house all before the big day 😣
Latest activity by Rebecca, on August 20, 2021 at 10:55
Devoted

October 2023 Newfoundland and Labrador

We have a super long engagement here 8 years in December to be exact.

when we got engaged we still had roommates then found out we were expecting 2 months later (i guess we celebrated our engagement a little too much haha ) but we decided to hold off until we had a house and toys (quad for him Vespa for me) then in 2019 we were going to get planning for 2022 annnnnd i found out i was pregnant again. so now we are planning for 2023 here's hoping nothing else gets in the way of that haha

Featured

August 2022 British Columbia

View quoted message

That's wonderful! It really is a great place. I'm originally from there and normally go back every summer when we didn't have covid lol

Yes me too! I kinda lucked out on that. Everything that's I've chosen, he's loved! I think next summer is going to be beautiful

View quoted message

That's so awesome. We have family in Kelowna. Love it there.

Aww I'm glad he's been so chill about it. You guys are going to have a beautiful day.

And thank you, I'm hoping so as well 💜

View quoted message

Yessss! So much this! We're 2025 and by then we'll be engaged four years and together for nine. I'm loving the time it's taking, enjoying the process and know all too well how fast the time goes by. I think by enjoying every minute of it there's less stress and pressure to get marred. Although hubby did say he kinda wished it was sooner so he could get his bling haha

Curious

May 2023 British Columbia

I think by the time my fiance and I get married we will have been engaged for 3 and a half years. We are still 2 years out, we're getting married 2023 but I feel like it's all gonna come up so fast.


I've been enjoying taking our time planning this wedding, we aren't in a huge rush and it gives us the chance to save more too

Featured

August 2022 British Columbia

View quoted message

It's absolutely beautiful for sure! I'm originally from Kelowna so it has a special place in my heart. It's going to nice when we're finally married! We've been waiting for long. It'll be 4 and a half years when since we got engaged when we do get married. I have a good feeling about next summer being a lot better and we'll have all of our family and friends their to celebrate with us. My fiance has been actually pretty good with everything. He's pretty much said to me whatever you like, I'll go with it. I'm a visual merchandiser for a clothing company so I kinda have the eye for details and how things should look lol He has defiantly voiced some things regarding the dinner menu since we're able to pick from 5 different options. He also came with me flower shopping! Which I wasn't expecting but he was actually interested in that when we were with the florist.

That's the thing with traveling right now too, you can go to other countries but coming back to Canada you gotta quarantine. I don't want to do that. I hope you can the dream wedding you want with a destination wedding

View quoted message

I figured it was somewhere in BC, it's so beautiful out there. The day is coming quick! How exciting for you guys! Has hubby helped plan at all? My guy is very vocal about the things he wants and doesn't want lol he's the ultimate groomzilla

Two and a half years that's pretty good! I'm afraid I'd be doing the same lol, I got ahold of a travel agent yesterday and inquired about their travel policies, Jamaica doesn't have much for restrictions but coming back into Canada there's still a quarantine period and of course proof of a negative test 72 hours prior to travel. She said she's travelled internationally twice during Covid and it's been easy breezy so I'm praying it's the same by the time comes. 🤞🏽 so nervous about it

Featured

August 2022 British Columbia

View quoted message

Thank you! We're pretty excited to have our wedding here! It's been a dream of mine since I was a little girl. This winery is located in Kelowna BC

It's defiantly never too early to start looking at packages and what hotels offer for weddings! My fiance and I booked the winery 2 and a half years before our original date. But I wouldn't book anything just yet with destinations weddings just because with the uncertainty with travel still right now. I've also heard that some customers are having a hard time getting their money back with sunwing because of covid. I would just be causes with out of country weddings right now

View quoted message

Oh my gosh thats GORGEOUS!!!! thats going to make for a beautiful outdoor ceremony!! We havent even started at venues yet. I should probably go onto sunwing and see what kind of packages they have available lol. My mother in law to be is asking how much flights are going to cost so she can start getting prepared. I totally think the wait is worthwhile if its for the wedding of your dreams and this looks so dreamy. where is this located? It looks like its in BC or somewhere bordering it.

Featured

August 2022 British Columbia

View quoted message

Turks and Caicos is beautiful! My fiance and I went a couple of years ago!

We're going with Navy and Gold colors for the wedding This is our venue

Lovely! I Love rustic colors for a wedding!

View quoted message

I would love to go to California, neither of us has been.

Disneyland would be fun. I have friends that got engaged there. It Looked so magical. Yeah I'm hoping restrictions lift by then also, would make our wedding and honeymoon so much easier. We want to wed in Jamaica and honeymoon in Turks and Caicos. But…. How do you quarantine for 14 days if your only going for 7. So we have to figure all that stuff out. It seems like such a headache right now to even think about lol.

A winery sounds beautiful. Nice reds and oranges maybe? Lace. Red lipstick. Oh man I could only imagine how beautiful. We're doing rustic, lace dress, peonies, dusty rose pink with earthy tones,

Featured

August 2022 British Columbia

View quoted message

My fiance and I have both been to California 3 times with our families but we've never gone together. We'll be going to Disneyland and all the other amusement parks and attractions while we're down there! It may not be right after the wedding but we're thinking of having our honeymoon the year after to celebrate our one year. Hopefully by then there won't be so many restrictions with travel.

We were are lucky to have great vendors and venue for sure! We really don't have a theme for our wedding. We're getting married at a winery so we're trying to have it more elegant then anything.

Have you guys figured out your theme yet?!

View quoted message

Ooo that sounds beautiful! California will be nice, I've never been. We aren't even sure where the heck we want to have our wedding or honeymoon. Hubby wants it in Jamaica, I want it in Banff lol.

Yeah the virus really threw a lot of people for a loop. So glad you guys got lucky with good vendors. What's your guys wedding theme?

Featured

August 2022 British Columbia

View quoted message

We're both turning 30 next year so we're not that young ourselves and first marriage for both of us. We've been together just over 6 years now as well and got engaged December 25 2017

It's crazy what a virus can do to the world. We have deposits on everything around 10k but we're super lucky that all of our vendors and our venue are super easy to work with and weve been able to move all of our deposits to our new date. It wasn't easy the first time postponing last year but this year wasnt as back just because we both agreed that we want the wedding we've been dreaming of since we got engaged and not look back in 30 years and regret anything! We've saved alot more with postponing twice so it will help with our honeymoon trip to California!

View quoted message

Oh thank goodness lol 🙏🏽 so glad we aren't alone in this. We're an older couple im nearing 32 and he's nearing 41. Second marriage for me first for him. We've been together five years just got engaged may 22nd but we are in the process of trying for a baby and buying a house so we've got a lot going on lol. I figure since I know it's coming im ok waiting especially with COVID. COVID really put a damper on so many peoples plans. Did you guys have deposits down on vendors/venues already? 😞 sorry you guys wound up pushing it back but at least it's closer to what your wanting plus it gives more time to save lol. I figure more savings = more spending 😂 lmao

Featured

August 2022 British Columbia

You're not alone! My fiance and I have been engaged for 3 and a half years right now and when we get married next year, it'll be 4 years and 8 months! Only because of covid. We would've been married in 2020

Long engagement are a lot more common these days. Some couples want to be able to afford the wedding and save as much as they can so they can pay for it themselves or sometimes other things in life happen like babies, and houses. Every couple is different!
Groups
WeddingWire Article Topics