Post content has been hidden
To unblock this content, please click here

Beginner
May 2022 Ontario
Gifts
Kinda wondering what people are doing for the groomsmen gifts as a thank you?

Latest activity by Amanda, on February 26, 2021 at 13:40
Featured

August 2022 British Columbia

View quoted message

Thank you! You might be able to find someone that's local to you that could make them. I had found a lady through local wedding sell/swap Facebook groups

Beginner

May 2022 Ontario

View quoted message

Those look amazing, thank you for sharing!

Featured

August 2022 British Columbia

My fiance only has his brother standing up for him. We've decided to give our wedding party and both sets of families wine glasses and beer mugs with a cute saying on it to go with the wedding

"Best Man" "Maid Of Honor" "Mother Of The Groom" etc

Featured

May 2022 Alberta

My Fiancés groomsmen are really into video games and superheros. We are thinking about getting them Xbox controller cufflinks (found them on etsy) and superhero socks. I thought those would be good ways to incorporate a bit more of my Fiancés interests into the wedding. Then we will probably get them something non wedding related that is personal to them but not sure what

My Husband bought his groomsmen these chair coolers with their names stitched in because we play a lot of sports in the summer and everyone brings their coolers and chairs, so he found these and thought it was an amazing idea and I agreed!
I would say just look for something personal and fun! I know a lot of people do watches for groomsmen as well...

Featured

September 2021 Ontario

View quoted message

Leather card holder will be around $20

Leather wallets probably closer to $30-$50 depending on the quality of the material and brand

Swiss army/pocket knife around $30

Water bottles are maybe $10-$20 depending on insulation and material

I bought this Key Smart for $30 and I love it. Especially useful if they have a gazillion keys. No more chunky pockets!

You can get some really awesome fountain pens at Staples for under $20.

Jewelry prices will vary depending on material and item.

cufflinks and tie bars $20-$40 depending on the material

Video game controllers $20-$100 (it really depends on what the console is)


Bar items roughly $20 for a set of wine glasses or beer mugs. This is for non-printed stuff, otherwise you're probably looking at $20 per mug or $10 per wine glass. I'd rather get a plain set then something engraved with my name (or worst, the couple's name and wedding date lol).

Beginner

May 2022 Ontario

View quoted message

Thank you! That was very helpful! Thoughts on how much price or items wise is reasonable?

Featured

September 2021 Ontario

Something for an everyday carry would be my go to. Compact key holders, card holders and wallets, swiss army/pocket knife (make sure it's nothing crazy that would make it illegal), fancy pen, water bottle, flashlight etc. You can also go for jewelry like cufflinks, watches, tie bars, bracelets, chains, or earrings if they have them pierced. Try to personalize the item to the individual. Construction worker and other blue collar types might not have much need for cufflinks or tie bars lol.

If your guys are gamers than gaming accesories like extra controllers would be nice. If they're drinkers, bar items like wine glasses, beer mugs, flasks, and cooler/warmers for cans and bottles.
Related articles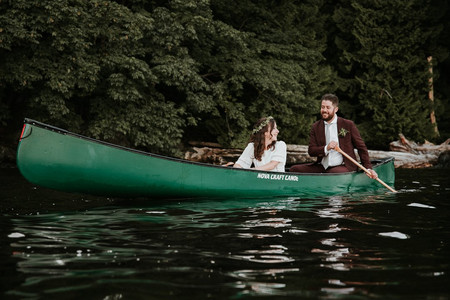 Groups
WeddingWire Article Topics