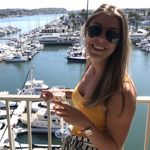 Frequent user
February 2022 Quebec
Gift for bachelorette
I can't make the bachelorette for my future sister in law because of COVID restrictions and I want to send a gift! What are some gifts you would have liked to receive for your bachelorette? It can be a sweet treat, wine, a material gift, etc. Thanks!
Latest activity by CecileyHench, on June 29, 2022 at 15:49
Newbie

August 2021 California

A fun charcuterie platter box is a sweet gesture and enjoyable for all!


Newbie

May 2022 Newfoundland and Labrador

Bachelorette is a party for the bride. So, the bride should be spoiled and get gifts. I organized my Bachelorette with five of my best friends. Some couldn't come from abroad, but the girls thought about me and sent me such lovely presents. Some gift ideas can be perfume, underwear, cosmetics, jewelry, vouchers, a box with sweeties. My girld friend from university sent me a big box of pick and mix sweeties . It was such an original gift that you can't forget that you had once, even though you ate everything already.


Beginner

July 2023 Ontario

I have no idea what present to give to my friend who lives in another country. What can I gift her to her wedding? She lives in Australia and I won't come to celebrate her wedding, but I still want to present her something. Any ideas?

Curious

August 2022 Ontario

I would try to come up with another idea, although she may find it flattering that you loved her idea.


Have you heard of "The Adventure Challenge: Couples Edition"? It's a really neat idea where couples scratch a section on the page that reveals their challenge/adventure & get to document it as they go along. It seems like something her and her hubby-to-be can enjoy together and bond over 💕


Beginner

July 2019 Alberta

Hi! I would pick a gift off the registry if they have one , and have it delivered to her house . That way it's definitely something that the couple would use. A nice bouquet of flowers , edible arrangements or a spa gift basket would be my recommendations. Alternatively ( if nothing else looks good ) , you could always do cash in envelope , although it won't be a "physical " gift .
Hope this helps !




Featured

September 2021 Ontario

View quoted message

Normally the "gift" is for the bachelor/ette party, whatever form it takes, to be paid for by the members of the bridal party (which is why the bride and groom don't plan their own bachelor/ette parties because it's a real d*ck move to plan your own extravagant party and expect someone else to pay for it). But since Alexandra can't attend, she wanted to show support with a small gift. I think having something that is part of the experience is perfectly in line with that.

Frequent user

February 2022 Quebec

View quoted message

Oh I love that idea, thanks!

Frequent user

February 2022 Quebec

View quoted message

I don't think it is, I just want to send a little something since I'm a bridesmaid and would typically be expected to attend but can't. So kind of a show of support instead of being there in person! For my bachelorette my MOH did get everyone little gifts but it was mostly things for the weekend - coasters, shirts, etc.

Curious

August 2022 Ontario

View quoted message

A fun charcuterie platter box is a sweet gesture and enjoyable for all!

View quoted message

With my experience with Bachelorettes is if it's trip (ie. nashville) there aren't any gifts because all of the girls are paying for their travel expenses. But, for home bachelorettes such as wine tastings or cottage weekends, I find the gifts are more lingerie themed, or honeymoon oriented. If theres both a bridal shower and a local bachelorette I will opt for getting something off the registry for the shower and then get something cute like custom panties (new last name) and wine, or travel essentials if theyre going on a honeymoon for the bachelorette.
Having said that, I've been a bridesmaid 9 times and am now a bride myself now and honestly I don't think I'd expect gifts at my bachelorette.

I apologize in advance since I don't want to come off as sounding rude, but I'm genuinely curious. Is it customary for the bride to receive gifts at a bachelorette? I'm not expecting anything from my girls and was actually going to give them gifts as a thank you for helping me with all the wedding things.

Frequent user

February 2022 Quebec

View quoted message

Good idea! She is doing a cottage weekend since not much is open, so maybe a game or a fun food delivery

Featured

September 2021 Ontario

Do you know what she's doing for her bachelorette? Depending on where she's at, you can give her something that augments the experience.

You can also give her something she can use towards the wedding, like jewelry.
Groups
WeddingWire Article Topics