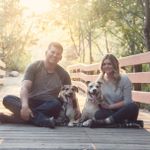 Frequent user
September 2018 Saskatchewan
Latest activity by April, on June 4, 2018 at 15:02
Frequent user

September 2018 Saskatchewan

View quoted message

I went with 99CENTSweddingsigns on Etsy, super affordable and the owner was very helpful and even made a sign for me with our hashtag!

Devoted

September 2019 Ontario

Great Ideas using Etsy! Think I'll check it out!

Curious

June 2019 Ontario

I used charming endeavours.

Sorry I hit send too fast! I used OnionSisterCreative in Toronto! She was amazing!

I used Onion Sister Creative in tomorore

Expert

August 2018 Ontario

Is there a particular sign you need? one of the printables i bought is from Sugar Pickle Designs (it's a customizable "If you Instagram, please use (insert hashtag)"sign.

What kinds of signs are you looking for? I used Bliss Paper Boutique for everything from Etsy, including our invitations and they were AMAZING. I love the fact that you can print everything from home too. We took our seating chart to staples to have that printed there though because of it being larger scale.
Groups
WeddingWire Article Topics