Hey lovely ladies! So I may have mentioned it before (not too sure as I post a lot in here haha), but I am not a very crafty person but I wanted to make my table numbers myself for the wedding! I had found this photo on pinterest that I loved and thought these would be perfect for my wedding as the colours are purple with gold accents!
Table number inspiration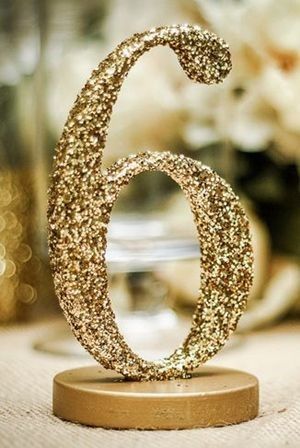 Yesterday one of my bridesmaids and myself went to Michael's and we got two numbers just to test the glitter and see if we liked bigger sparkles like in the picture above or a finer glitter! We ended up liking the finer glitter whiched we used on number 1 as we think it looks a bit more classy and we think that if we are doing double digits with the bigger sparkles, it might be too much! I took a photo for everyone to see! We will be doing stands as well but we just wanted to do test it with the numbers before doing them all!
Table numbers