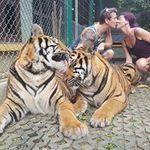 Curious
July 2018 British Columbia
Bridesmaid proposals...
How many of you made or bought bridesmaid proposal gifts? Or plan to? Curious because I started a diy project to get tumblers, sunglasses and shirts all stamped with "bride tribe" and no one seems to really know what a bridesmaid proposal is.. am I one of the only ones? Hiw did you ladies ask you wedding party
Latest activity by Diandra, on June 30, 2017 at 17:30
Newbie

September 2018 Ontario

I did up theses boxes for my MOH and bridesmaids. Got pretty boxes from homesense, printed out a couple pictures and a card asking them. I got the tumblers off Etsy, with their name and our wedding date on them. Just added a couple flours a ring pop and some hand loation. They loved the boxes and all said yes of course! I'm pretty happy with how they turned out!

Expert

September 2017 Ontario

This is what I did for my girls. I made each of them this card and got them an Essie nail polish that was wedding themed... i think this particular one was called brides to be, and i gave it to my future sister in law who got engaged at the same time as us

i

These are amazing Meghan! Is there something in the glasses too? When will you "propose"?

Frequent user

June 2018 Saskatchewan

I made some coffee mugs that said "bridesmaid" on them then filled a bag with champagne, lotions, chocolates and candles. I have one male on my side. I made him a bag with a mug "bridesman" he loves it.

Right?! It's helped me with so many different inspirational photos on how I want our wedding to look.

Oh Pinterest... how did anyone ever plan a wedding before it?!?

Thank you! We got the idea from Pinterest

From Michael's craftstore

These are freaking awesome!! Love the card!

Beginner

December 2017 Ontario

Very nice! where did you get your boxes

Groomsmen boxes

Sorry, crappy picture taken from instagram but these are the groomsmen boxes

Bridesmaid Proposal

I made these for my bridesmaid and my MOH. They have a small bottle of champagne, chocolate filled mints, EOS lip balm and I made my own confetti poppers and personalized cards for them. It cost us roughly around $25 for each box (we made 4 in total- 2 for my girls and 2 for his guys) and they loved them. The guys boxes were much more simple with a bottle of liqour they like, a simple cutout card asking them to suit up and be in the wedding party and a cigar. We painted the girls blue and the guys boxes were stained in darker wood color.

Curious

July 2018 British Columbia

Thanks for the input ladies this is the proposal and I've definitely made it a little simpler then I originally intended. I do plan on keeping cost down for my bridesmaids as I know it can be hard..

Curious

January 2018 Saskatchewan

I did gifts for my bridal party. Nothing expensive, everyone got something different. I found an infinity necklace for my maid of honor, plus I got her a mug that says maid of honor.For one of my bridesmaids he's actually a guy haha. So I got him a puzzle off of etsy that asked him to be my "bridesman".For my last bridesmaid I got her a diary and wrote a nice message in there asking her to be my bridesmaid. I kept it super cheap but sentimental!

Super

September 2017 Manitoba

I agree. I didn't do gifts because I didn't want to add extra pressure and I honestly didn't want to spend extra money on this.

Frequent user

June 2018 Ontario

I kept it super simple! I bought wine glasses from the dollar store, and used oil based sharpies (from michaels) and wrote "will you be my..." than bridesmaid on the back! Put they're name down the stem, and put the wedding date along the bottom

For my MOH'sI used a vintage style closet box, when they opened it , "will you be my MOH"

I did it simple because I plan on doing more for them as the wedding continues on

Good luck!! Let us know what you decide

Devoted

July 2018 Nova Scotia

Two of my girls live away - so we did a group chat on fb - my MOH is also my photographer -- i asked her in person -- FH called and asked his brother and bffs to be best man and groomsman - then i asked all 3 of my children to stand - and my little nieces and nephews dont know yet bc its too soon & we know they will drive their moms crazy asking when is aunties /godmas wedding

Curious

July 2018 Ontario

Mine were super simple but they loved it! I got a bag of ring pops from the dollar store, a mini bottle of champagne, printed off a card and a picture of us and put some pretty tissue paper. Cost maybe $5/box!

Very true!! This puts a lot of pressure on people to accept when they really might not be able to

Devoted

September 2017 Quebec

I built my bridal party a fancy shoebox full of goodies like a ring pop, a note pad, a bracelet and some decorative flowers. I hand wrote them a nice card relaying memories they had and asked them if they would be bridesmaid/MOH!
I scheduled a dinner with each of them and asked them when dessert came around. They all loved the idea and how much effort I put into it 😊
My fiancé asked his groomsman/best man by handing them cigars that we got from Mexico-the place we got engaged!!

Curious

August 2019 Newfoundland and Labrador

I love the idea of "Pinterest-style" asking. But try to be mindful of their situations, I've had to turn down wedding party offers due to financials (one wedding, the wedding party ended up forking up over $1000 each, between the dress, shoes (which were all pre-decided), mandatory hair and makeup at an expensive salon, bachelorette party, etc.) and it definitely would have been much harder for me to explain it to her, if I felt she had gone through the trouble of making/buying me gifts.

They are popular but I personally am not a fan. I just asked my girls in person and saved all the fun gifts for the wedding party gifts just before the wedding. This get expensive and I just preferred to put that money into 1 gift rather than breaking it up into 2 sets.But they can be cute

I went through my photos to search for her bridesmaid proposal to me - Here they are!

I love bridesmaids proposals, it is most definitely a thing! I'm not sure what I'll do yet, but when my friend asked me to be her MOH, she presented me with a small bottle of bubbly called POP, a cute box she had painted and she had put my initials. Inside she had a ring pop and a sign asking if I would be her MOH. And that's how she "POPPED" the question

I know others who have simply written a letter to their bridal party asking them to be part of it. Really depends what you want to do. Do post photos when you're done, it all sounds great!
Groups
WeddingWire Article Topics